Sister Mary Jo Marian Catholic Bobblehead Available for Pre-order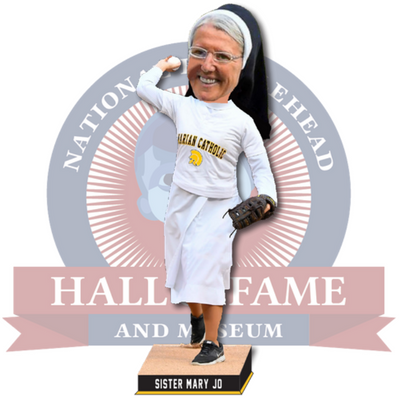 Bobblehead featuring Sister Mary Jo throwing out the first pitch is now available for pre-order in the National Bobblehead HOF and Museum's Online Store.
Milwaukee, WI – August 20, 2018 – Today, the National Bobblehead Hall of Fame and Museum unveiled the rendering for a new, limited edition bobblehead featuring Sister Mary Jo Sobieck from Marian Catholic High School. The bobblehead features Sister Mary Jo throwing a first pitch. Video of Sister Mary Jo's ceremonial first pitch at the Chicago White Sox game on Saturday, August 18th quickly went viral across the world.
The bobblehead, produced in conjunction with Marian Catholic, is available for pre-order in the Hall of Fame and Museum's Online Store. The bobbleheads cost $25 each plus a flat rate shipping charge of $8 per order and are expected to arrive in December. Each bobblehead will be individually numbered and come in a collector's box. Five dollars from every bobblehead sold will go directly to Marian Catholic High School.
Sister Mary Jo, who teaches theology classes for sophomores and juniors at Marian Catholic, was selected by the school to throw out the ceremonial first pitch as part of the school's "Night with the White Sox" at Chicago's Guaranteed Rate Field.
Sobieck confidently walked to the pitcher's mound wearing a traditional habit and white Marian Catholic High School jersey with #60 on the back celebrating the school's 60th Anniversary. She was so confident that she did an arm-bounce trick before her first pitch, which was a perfect strike. Shortly after the pitch, the White Sox tweeted, "One of the most impressive first pitches of all time." Sister Mary Jo played both volleyball and softball while attending Vermillion Community College in Ely, Minnesota and The College of St. Scholastica in Duluth after graduating from Cathedral High School in 1987.
When asked how she stayed calm on the mound, Sister Mary Jo said, "You just have to be yourself, do your best, and let God do the rest." It is a message she shares with students every day.
"We're thrilled to be teaming up with Sister Mary Jo and Marian Catholic to create this awesome bobblehead commemorating her and her amazing first pitch," said Phil Sklar, Co-Founder and CEO of the National Bobblehead Hall of Fame and Museum. "Similar to Sister Jean, Sister Mary Jo should serve as an inspiration with her display of confidence and enthusiasm and this bobblehead will be a great way to celebrate that!"
In mid-March, the National Bobblehead Hall of Fame and Museum teamed up with Loyola University to release a Sister Jean bobblehead. That bobblehead drew tremendous national attention during Loyola's Final Four run. Over 17,000 Sister Jean bobbleheads have been sold to date, making it the best-selling sports related bobblehead of all-time. A limited number of Sister Jean bobbleheads remain available for sale.
About the National Bobblehead Hall of Fame and Museum:
The National Bobblehead Hall of Fame and Museum is finishing set-up of its permanent location, which is expected to open this Fall. The HOF and Museum was announced in November 2014 and hosted a Preview Exhibit in 2016.  The HOF and Museum also produces high quality, customized bobbleheads for organizations, individuals and teams across the country. Visit us at www.BobbleheadHall.com, www.facebook.com/BobbleheadHall or www.twitter.com/BobbleheadHall.
About Marian Catholic High School:
Founded in 1958, Marian Catholic is a Catholic, college-preparatory, co-educational high school in the Dominican tradition, with deep roots in the local Chicago Heights, Illinois community and beyond. The school's diverse student population travels from over 60 zip codes for nationally acclaimed programs in academics, fine arts, and athletics. Marian Catholic students seek truth, exhibit personal responsibility, cultivate their individual talents, and demonstrate ethical leadership and Christian Service. Twice recognized as a Blue Ribbon School and named by U.S. News & World Report as one of the most challenging schools in the country, Marian Catholic High School offers a learning environment based on the four Dominican Pillars of Prayer, Study, Community, and Preaching.