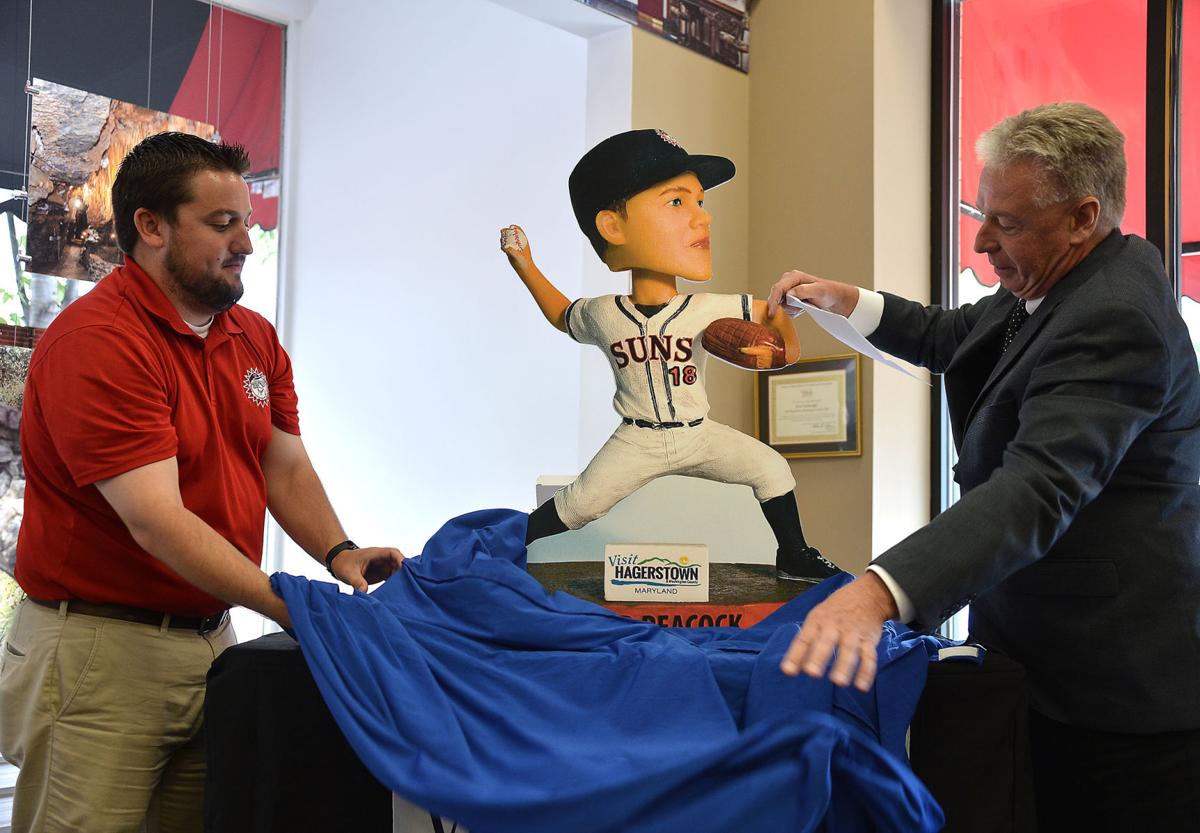 Brad Peacock featured prominently in the Houston Astros' World Series win last year.
A decade earlier, the 30-year-old Florida native made some of his first appearances in professional baseball as a pitcher for the Hagerstown Suns.
For his performance on the national stage and his local connection, Visit Hagerstown chose Peacock — who pitched for Hagerstown in 2008 and 2009 — to feature on its 2018 bobblehead promotion. The bobbleheads will be given away at a Suns game on Sept. 1.
"I was watching the World Series last year and Brad Peacock kept coming up and making critical saves, critical pitches for the Astros," Visit Hagerstown President Dan Spedden said during an unveiling ceremony Wednesday.
"I remember him when he was here," Spedden said. "… He was a nice guy, everybody liked him and it was just a pleasure to see him go to the World Series. You never know where Hagerstown's influence is going to reach."
It's the 13th annual bobblehead sponsored by the tourism bureau, formerly known as the Hagerstown-Washington County Convention and Visitors Bureau. Each one has traditionally featured a person who is well known or has had an impact on Washington County, historically or currently.
Suns General Manager Travis Painter said he was thrilled to continue the partnership.
"It's a lot of fun for us," he said. "Every year, we kind of sit down in the offseason with the whole staff and figure out what bobbleheads we're looking at and we always know we can count on that there's gonna be a mystery bobblehead with the CVB. … We really appreciate the partnership."
Making four appearances in the 2017 World Series against the Los Angeles Dodgers, Peacock gave up four hits and two runs over 7.1 innings. He picked up a key save in Game 3 and tossed two scoreless innings in the decisive Game 7, clinching Houston's first ever World Series title.
The Washington Nationals, the Suns' Major League parent club, traded Peacock in 2011 to the Oakland A's. He was later dealt to the Astros.