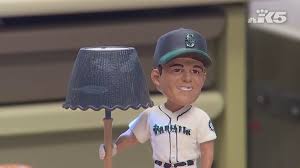 Seattle doctor Josh Benditt has been working on his bobblehead collection for quite a while now.
It's that very hobby that placed him and his wife Gabrielle, a nurse practitioner, at the right place at the right time: in a long line at Safeco field on Edgar Martinez bobblehead night.
"By the time we got there it was two hours ahead of time and there were already ten or fifteen thousand people there," said Benditt.
It was an extremely hot day and someone ahead of them in line passed out, or so they thought.
"When I looked at him, being a physician I could tell he was not good. His color was very bad and he was clearly not breathing," said Benditt.
Little did anyone know, Bob Brown was in cardiac arrest.
"His wife Mary Lee was being protective about it because Bob has an internal defibrillator and it's supposed to shock him when he is having abnormal heart rhythms, yet at that moment, it was clearly not doing what it was intended to do," explained Benditt.
Finally, the Benditt's convinced Mary Lee that they should start compressions, and it worked.
"I had been doing CPR for maybe a minute at the most. All of a sudden the defibrillator started working and it shocked him. You could see that it worked because there was a little jumping and he woke up, it was unbelievable," said Benditt.
Bob was taken to the hospital.
"We got back in line and went in to get the bobblehead and watch the game. We then found out that Bob was being taken to the hospital where I work," said Benditt.
That is where they met again.
"I was absolutely thunderstruck that I would get to meet a man who saved my life," said Bob.
The Benditt's are so grateful they were in the crowd.
"I could never, ever thank you enough. I hope to be able to thank him for the rest of my life," said Bob while getting emotional.
Gabrielle Benditt explained, "The message we all need to take away from this is to learn CPR and to not be afraid to jump in when needed."
These two people saved Bob's life and gave him one more gift, a bobblehead.