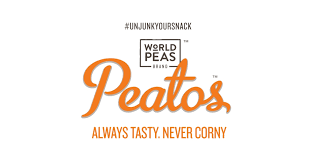 LOS ANGELES–(BUSINESS WIRE)–The rapidly growing upstart World Peas Brand Peatos is challenging the supreme reign of Cheetos® by Frito-Lay, a subsidiary of PepsiCo, with a revolutionary new approach to "junk" snacks. In the battle for taste buds, Peatos is taking a bold stand against the company that controls more than two-thirds of the salty snacks in the United States. Not only is Peatos making headlines around the world, national retailers are stocking the product and consumers are raving about it.
Peatos are made of pulses and are a crunchy, puffed snack that has two times the protein (4 grams) and three times the fiber (3 grams) of Cheetos® per serving. Peatos also boasts clean, non-GMO ingredients and has no artificial flavors, no synthetic colors and no added MSG. Striking flavors include the popular Classic Cheese, Fiery Hot, Chili Cheese, and Masala.
"Pulses are like a magical ingredient full of plant-based protein and fiber. Common pulses include chickpeas, beans, and lentils. Using pulses to create 'junk' snacks is a game-changing revolution in snacking," added Desai. "There are tons of better-for-you snack options now, but they often leave your taste buds in misery. It's the taste of Peatos that will blow your mind. "
The company spent two years developing Peatos to mimic the taste, texture, crave-ability, and visual appeal of "junk" snacks. World Peas Brand is obsessed with taste and so are its loyal fans—making Peatos one of the most innovative snacks to hit the market in decades.