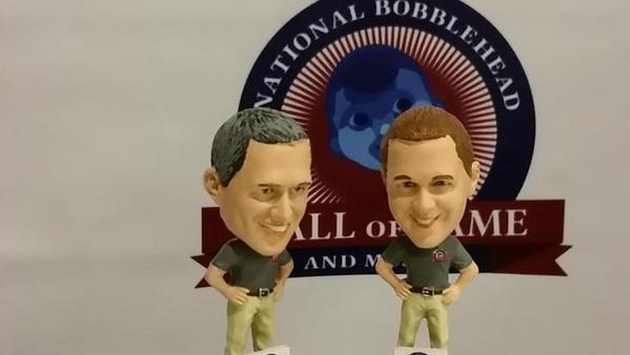 From Travel Pulse by Donald Wood
Taking your family to the ballpark is a great experience, but one of the things that can make it unforgettable is when teams give away bobblehead figures that look like a favorite player or mascot.
Almost everyone has received one of these collectibles over the years, and now, in Milwaukee, Wisconsin, there are plans taking form to open an official Bobblehead Hall of Fame and Museum.
According to Carrie Antlfinger of The Associated Press, museum masterminds Phil Sklar and Brad Novak, both 31, quit their jobs and have dedicated their lives to paying homage to the bobblehead figures.
Sklar, CEO of the venture, told The Associated Press about what he and his partner hope to accomplish with the museum:
"Milwaukeeans also enjoy fun — as can be witnessed by the love for beer, sports and festivals — and bobbleheads are fun. We're really looking to become the go-to source for anything bobblehead-related."
The two men are hoping to eventually display 10,000 bobbleheads, but are starting off with an impressive 4,000 already. With likenesses of athletes, mascots, characters and celebrities, the museum will also feature vibrating shelves to keep the heads shaking.
While the museum hasn't opened yet, the two men have continued raising funds from family, friends, and Kickstarter. To make extra money for the museum, they have continued designing custom bobbleheads for sports teams, other organizations, and individuals.
The overall plan is to display some of their collection at a local art gallery in January of 2016 before eventually opening up a permanent location for the museum in the new Milwaukee Bucks arena complex.