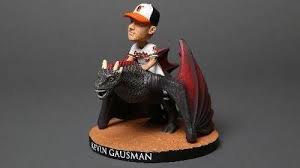 Orioles' Game of Thrones Night to feature Kevin Gausman riding a dragon (in bobblehead form), Iron Throne By Katherine Fominykh
Next month, Camden Yards will transform into the Red Keep for one day only.
On Thursday, the Orioles revealed details for their Game of Thrones Night, scheduled for their Aug. 14 game against the New York Mets, which features a chance for fans to live out their Westerosi dreams of sitting on the Iron Throne.
This year, all fans with special ticket packages will receive a Kevin Gausman bobblehead as the pitcher, a noted animal lover, rides Drogon, the favorite dragon of Daenerys Targaryen in the series.
The Orioles first brought Westeros to Baltimore in 2017, after Major League Baseballpartnered with HBO to promote the show's seventh season at 21 ballparks. Last year's event featured center fielder Adam Jones as a man of the Night's Watch, donning a furry black cloak as the "Watcher on the Wall."
Along with the throne photo op, Gausman bobblehead and a seat in the left field lower box, ticket packages feature entry to a pregame party in the bullpen picnic area in center field. Running from 5:30 to 7 p.m., the cookout boasts a menu of burgers, Italian sausages and hot dogs, side dishes, various cookies, beer, soda and bottled water.
Fans can purchase the full "Game of Thrones" package for $70 online at orioles.com/gameofthrones. For a cheaper option, the $45 ticket package includes only the bobblehead and a game ticket in the same area, while the $30 package includes seats in the upper reserve section, though neither option includes the pregame activities.
While that game's starting pitchers are a long ways away from being decided upon, here's an FYI: Mets starter Noah Syndergaard made a cameo in a recent "Game of Thrones" episode as a Lannister soldier, part of an army burnt to a crisp by Drogon, the same dragon Gausman is depicted to be riding.