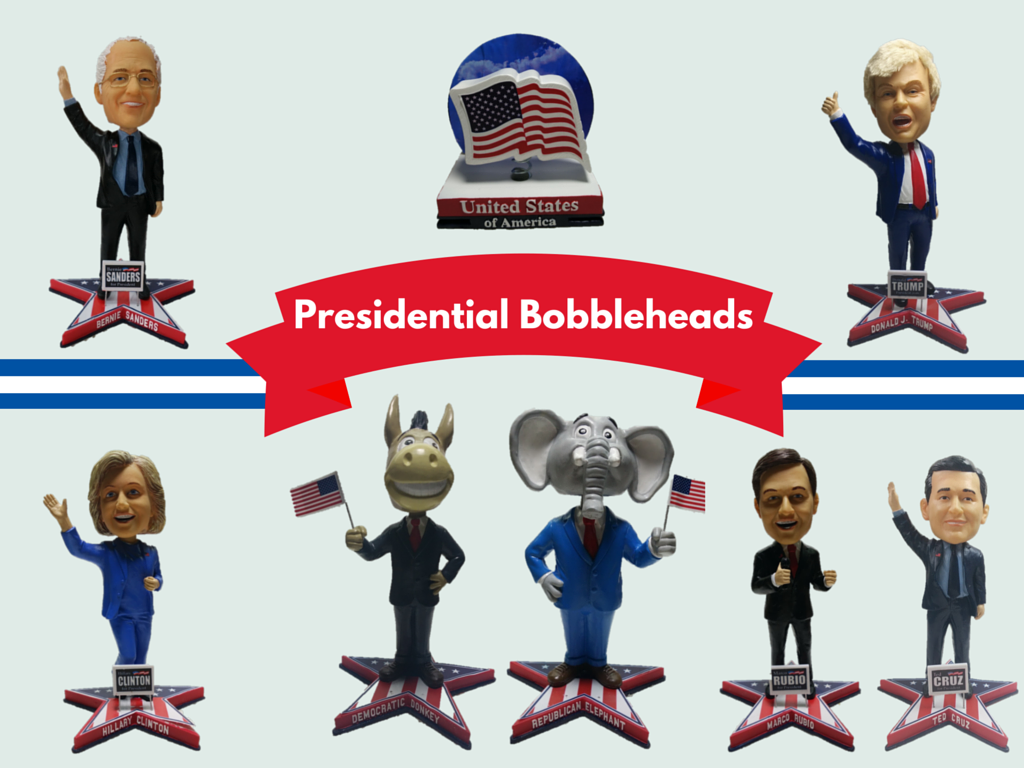 From Fortune.com – All the frontrunners are included.
If you're a political junkie looking for the perfect set of desk toys, there's a new Kickstarter for you.
A campaign that's billing itself as "the most comprehensive selection of 2016 Presidential Campaign Bobbleheads" includes all the frontrunners—Donald Trump, Hillary Clinton, Bernie Sanders, Marco Rubio, and Ted Cruz. Jeb Bush didn't quite make the cut, due to his falling poll numbers.
The drive was started by Phil Sklar, the Milwaukee-based co-founder and CEO of the National Hall of Fame and Museum. It's looking to raise $10,000 by Feb. 29, the day before the Super Tuesday Primaries. The Trump doll will even include "real hair-like material," Sklar promised in an e-mail.
Though bobbleheads of Trump and Clinton have been available before, it's much harder to find the iconic desk toys for the other candidates. Dolls are also being made of the Democratic donkey, a Republican elephant, and a bobbling American Flag.
There are a variety of packages available, but for any one bobblehead you'll pay around $20. The project will only be completed if all $10,000 is raised. With about a month to go, $350 has been raised so far from 12 backers.
There is good news for fans of Jeb Bush, Carly Fiorina, or Ben Carson: For a donation of $2,500 Sklar will create and sell a bobblehead of any presidential candidate, which gets you 10 dolls plus the option to purchase up to 300 more at just a dollar a pop.