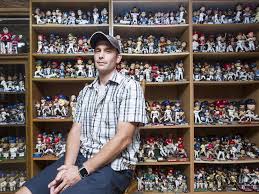 It started, as these things usually do, innocently enough — a promotional giveaway at a Senators' game at the Corel Centre, with the club handing out thousands of its first-ever bobblehead doll, a likeness of right-winger Marian Hossa, to ticket-holders at its Dec. 15, 2001 match against the New Jersey Devils.
The Devils took the game 2-0, but Phil Darling went home a winner, the nodding Hossa under one arm. Little did he know the obsession in him that was waiting to be unleashed.
Now 40 and a hardware engineer with Nokia, Darling was in his early 20s at the time and already a collector of sports figurines. He told himself to steer clear of bobbleheads, though.
"They started coming out in '99, and I was like, 'I'm staying away from that, because the last thing I need is to get hooked on something else. It's a lot of money and it's time-consuming.' "
But the Hossa doll was so detailed and realistic, and suddenly, he says, "I was hooked — just look at it."
An avid Toronto Maple Leafs fan, he'd barely got his Hossa doll home when he read about a couple of blue-and-white bobbleheads on offer — Tie Domi and Darryl Sittler. "Well," he thought, "I've already got Hossa …"
Then he found himself on eBay, looking through hundreds of bobblehead dolls. "I just started going through them… 'Oh, I like this one. This one's really unique, or I really like that player,' and it just kind of grew from there. It was like, 'I've got to have that one, and that one, and that one.'
"And then I became a completest. I have to get every one."
The Richmond resident hasn't (yet), but he does have more than anyone else, at least according to the folks at Guinness World Records, who in 2015 pronounced his collection of 2,396 unique bobbleheads the largest on the planet. Today his collection numbers 2,886, and counting.
Also known as nodders and wobblers, the popularity of bobblehead dolls has waxed and waned over the years since Chinese nodding-head figures were all the rage in the 18th century. In terms of sports figures, bobbleheads enjoyed two main eras of success, the first beginning in 1960 with papier-mâché and ceramic bobbleheads of Roberto Clemente, Mickey Mantle, Roger Maris, Willie Mays and the like becoming popular among baseball fans for about a decade.
Improvements in manufacturing in the 1990s allowed for better and cheaper plastic dolls that could easily be made in runs of just a few thousand — or hundreds, even, and on May 9, 1999, the San Francisco Giants, to mark the 40th anniversary of Candlestick Park, ushered in the current golden age of bobbleheads with a giveaway of 20,000 Willie Mays dolls.
The NHL got in on the craze a little under two years later, on Jan. 24, 2001, when the Anaheim Mighty Ducks gave fans Teemu Selanne dolls. The Hossa doll that Darling got was, according to the National Bobblehead Hall of Fame and Museum, only the NHL's 16th bobblehead, if you include the one of Chicago Blackhawks mascot Tommy Hawk.
Today, there are bobbleheads for just about everything, including most sports and numerous television and movie characters, musicians, superheroes and politicians — even U.S. Supreme Court Justices. Notwithstanding a pair of Hamilton Tiger-Cats football bobbleheads, Darling only collects hockey and baseball dolls, but within that group he has a number of oddities, including L.A. Kings winger Kyle Clifford as a zombie; former Arizona Coyote winger Paul "BizNasty" Bissonnette as Star Wars' light sabre-weilding Obi-Wan Kenobi (or, in his case, "Obiz-Wan Kenobi"; hirsute San Jose Sharks players Brent Burns and Joe Thornton sporting actual facial hair (or something like hair); and Wisconsin-born co-Shark Joe Pavelski dressed as superhero Captain America. Darling also has one of Bill "Goldie" Goldthorpe, the inspiration for the Olgie Ogilthorpe character in the movie Slap Shot.
His collection also plumbs the depths of the minor leagues, including such franchises as the Portland Winterhawks of the Western Hockey League. "I even have high school bobbleheads."
The rarest in his collection, which he keeps at his parents' farm south of Ottawa, is a Toronto Blue Jays' Frank Thomas bobblehead that the club never gave away. Thomas had been benched early in the 2008 season following an anemic 4-for-34 hitting slump. Thomas, however, believed that he was benched so that the Jays could sidestep a clause in his contract that would have netted him $10 million the following year if he reached 376 plate appearances. A day after he was benched, the team released him, and the Frank Thomas bobblehead giveaway scheduled for five weeks later never materialized.
"But some of them got out, and I was lucky enough to get my hands on one." Darling recalls paying around $35 for the Thomas bobblehead. One recently sold online for $260 U.S.
He understandably doesn't like to talk about, or even consider, whatever vast amount he's spent on his collection, which now includes eight additional and unique Marian Hossas — a number dwarfed by the 21 Sidney Crosbys, 18 Jonathan Toewses, 16 Alexander Ovechkins, 16 Evgeni Malkins, 16 Patrick Kanes and 10 Daniel Alfredssons.
He hopes to one day at least acquire all the bobbleheads given away by teams at games, as opposed to the ones sold in stores. He currently has almost 1,800 giveaways, putting him almost exactly one-quarter of the way there.