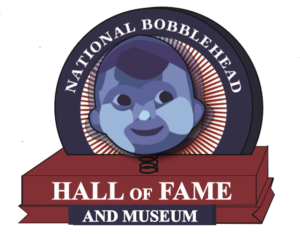 A permanent home has been selected for the National Bobblehead Hall of Fame and Museum.
The National Bobblehead HOF and Museum will be located at 170C S. 1st St. in downtown Milwaukee, in a building that once housed a foundry. The entire building was renovated and repurposed about 10 years ago and is located in the Walker's Point neighborhood, next to the 3rd Ward and downtown – and steps away from such Milwaukee attractions as the Harley-Davidson Museum, the Milwaukee Art Museum, and more.
"It's really the place to be in Milwaukee right now, and we believe, for many, many years to come," said Phil Sklar, the co-founder and CEO of the National Bobblehead Hall of Fame and Museum. "We're on the second-floor and have about 4,300 square-feet of space. Visitors will also be able to enjoy some of the best burgers in Milwaukee at Stack'd and great drinks and food at Colectivo, all in our building."
Sklar, 34, who lives in Milwaukee, said they looked at about 50 different locations over a nearly two-year period.
"We considered a lot of different and unique options and are really excited and happy with the location that we chose. It really had everything that we were looking for," he said. "We had talks with the Milwaukee Bucks about being part of the new arena entertainment area, but ultimately that didn't pan out, so we went in a different direction.
"We're just over a mile from the new arena development, and are excited about all of the momentum occurring in the downtown area."
Sklar said the location, combined with abundant parking and all of the unique businesses in the area, was key. There are numerous locally owned businesses nearby, such as restaurants, bars, breweries, shops and galleries.
The space was pretty much move-in ready, with very little cosmetic work needed, Sklar said. Still, they will be refinishing a portion of the flooring and making some minor cosmetic repairs.
"We're hard at work getting the interior and exterior signage ready, moving everything in and finishing up the exhibits and displays," he said.
The National Bobblehead Hall of Fame and Museum will house several thousand bobbleheads of all genres and periods. There also will be dozens of exhibits related to the history of bobbleheads, how they're made, the story behind different bobbleheads, and more. Plus, there will be a gift shop.
The National Bobblehead Hall of Fame and Museum hosted a successful preview exhibit at RedLine Milwaukee from January through April 2016 – the largest public display of bobbleheads ever assembled. There were several exhibits on display that will land at the new permanent location.
"The exhibit at RedLine was a preview of what was to come," Sklar said. "We'll have at least two or three times as many bobbleheads and many more displays and exhibits at the new location. The gift shop will be larger and there will be more to see and do. The entire space will be devoted solely to anything and everything bobblehead-related.
"We've come a long way since announcing the concept in November 2014. Our custom bobblehead business, which has been, and is expected to be a key revenue and profit-driver, has doubled every year, and we expect another exciting year in 2018. We continue to bring exclusive, unique bobbleheads to fans across the country. This includes the licensed NFL, MLB, NBA, NHL and NCAA bobbleheads that FOCO (formerly Forever Collectibles) produces for us, as well as unique bobbleheads like the Tim Dillard or Frankie MacDonald bobblehead that we produce. In 2017, we ventured into NASCAR and soccer (MLS and FC Barcelona) and have many new projects in the pipeline across all sports for 2018.