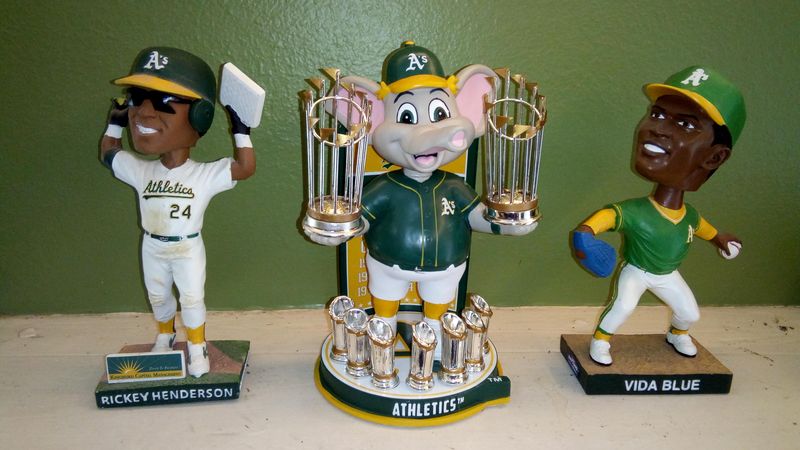 I love bobbleheads. I've never been a major collector of sports memorabilia, other than baseball cards as a kid, but bobbleheads are right in my wheelhouse. They're less expensive than signed balls or game jerseys or framed photos, but they capture my favorite memories just as well and fit nicely on a shelf. I've put together a little collection over the years and it makes me happy whenever I walk past it. When there's a minor earthquake, they all nod at me in reassurance that everything will be OK.
Given all that, I was thrilled to find out that there is a National Bobblehead Hall of Fame and Museum opening up in 2018. It will be located in Milwaukee, Wisc., and will celebrate not just baseball's tchotchkes, but bobbles from all different sports and even other areas of pop culture like TV and movies. Click here to read more about their mission, and click here to see a sample of their collection.
The physical museum is expected to open in April, but in the meantime they have produced a limited run series of baseball bobbleheads that celebrate teams with multiple World Series titles. There are 16 teams represented (no Yankees, Dodgers, Braves, or Tigers, nor any team with one title or fewer), in the form of the club's mascot holding a pile of trophies.
Only 1,000 of each bobblehead are being produced, with each one individually numbered on the bottom. They are available only on the museum's online store, for a price of $40 (plus $8 shipping). Click here to order your own! More from the museum's press release:
The museum sent me one as a gift and he's already making friends with the rest of my collection. To give an idea of scale, here is Stomper standing next to Rickey Henderson and Vida Blue.
He's the standard height that you'd expect from a bobble, but somewhat fatter on account of being an elephant covered in trophies.