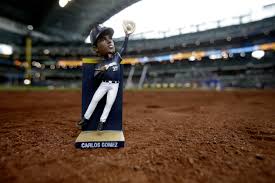 While Milwaukee Brewers fans continue to enjoy the off season rumor mill, the team is exciting fans in other ways. They recently announced their new in-season promotion schedule. This year is just as interesting as years past. Fans can expect a plethora of free giveaways throughout the season.
However, there is one promotion on August 25th that remains a mystery…literally. The To Be Determined bobblehead has collectors scratching their heads. Here at RTB, we thought it would be fun to speculate what this wonderful mystery item could be.
The Long Shots
There are a number of possibilities such as the much talked about Juan Nieves no-hitter bobblehead, but that one has been sought after for at least a decade now and to no avail. That is ruled out right away.
Another unlikely but interesting possibly could be a Ryan Braun 300th home run bobblehead. Of course, the fact that that was not announced rules that out. However, it would still be awesome to add another Braun bobble to the collection.
Finally, the Milwaukee Brewers should consider honoring the man behind this teams current success. GM David Stearns has worked extremely hard to turn this Brewers team into a perennial contender way earlier than expected. He deserves a bobblehead for his hard work.
Here is where the fun really starts. The 2017 Milwaukee Brewers had a few players that experienced break out seasons. A few sluggers reached the 30 home-run plateau. However, Eric Thames, is already getting his own clay statue on April 22nd. Travis Shaw will also have his very own 'Mayor of Ding Dong City' bobblehead on May 25th.
One likely option could be the third 30 HR slugger, right fielder Domingo Santana.  Santana is quickly becoming a favorite in the eyes of Miller Park faithful. His powerful swing and his high ceiling have captured the attention of teams in trade talks. If he is still on the team by Spring Training we could see a Sunday Santana bobble as the TBD.
Another very exciting possibility could be a 23-year-old phenom that goes by the name of Orlando Arcia.  In Arcia's first full season in the Major Leagues, he outdid everyone's expectations. To go along with some dazzling defensive gems, Arcia also showed promise with the bat. He batted .277 and slugged 15 home runs. For a guy projected to hit around .240 and have a little pop in the bat, a bobblehead representing the former number one prospect certainly deserves consideration.
Now, what kind of season would it be if we did not potentially honor the biggest surprise of 2017?  Anchoring our starting rotation, Chase Anderson deserves recognition for having one of the best seasons in recent memory by a Milwaukee Brewers starter.