2020 Presidential Bobbleheads Featuring Trump, Biden and Kanye Unveiled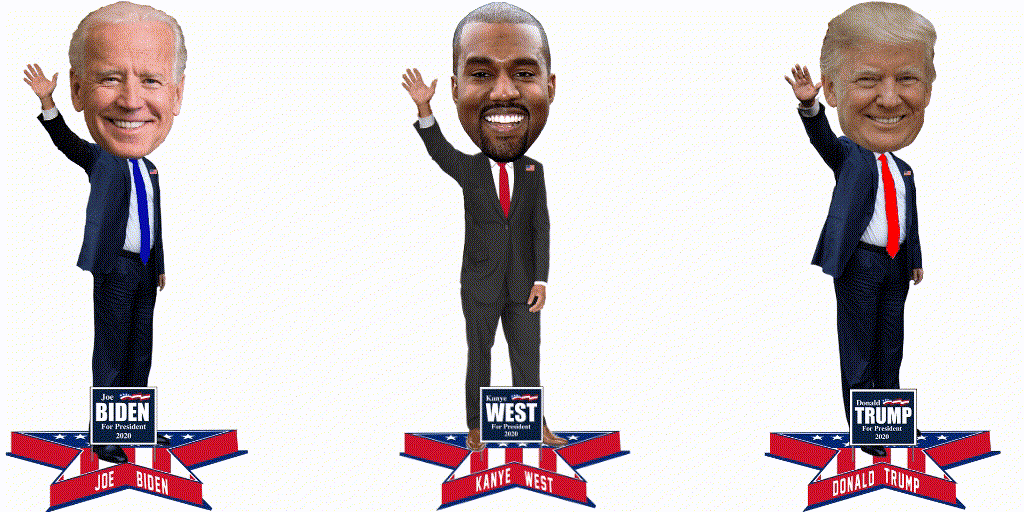 MILWAUKEE – This morning, the National Bobblehead Hall of Fame and Museum unveiled limited edition bobbleheads of 2020 Presidential candidates, Donald Trump, Joe Biden and Kanye West. The bobbleheads feature the three candidates on star-shaped bases with a replica yard sign bearing each candidate's name.
Each bobblehead is individually numbered to 2,020, and they are only available through the National Bobblehead Hall of Fame and Museum's Online Store for $20.20 each or $60 for the set of three with a flat rate shipping charge of $8 per order. The bobbleheads are in production now with expected shipping in September.
The 2020 Presidential election will take place on November 3rd with American's going to the polls to choose the nation's leader for the next four years. The incumbent, Donald Trump, is slated to accept the nomination as the Republican party's candidate at the Republican National Convention in Jacksonville, Florida, while the presumptive Democratic nominee, Joe Biden, is expected to accept the nomination to be the Democrat party's candidate at the Democratic National Convention in Milwaukee, Wisconsin.
Adding an unexpected twist to an already dramatic election season, on the 4th of July, Kanye West announced on Twitter that he was running for President with a tweet reading, "We must now realize the promise of America by trusting God, unifying our vision and building our future. I am running for president of the United States! #2020VISION". Although sources claimed earlier this week that Kanye was dropping out of the race, West filed a document with the Federal Election Commission on Thursday, signaling that he was moving forward with this 2020 presidential run.
"Political bobbleheads date back to the early 1960s when bobbleheads first became popular in the United States," National Bobblehead Hall of Fame and Museum co-founder and CEO Phil Sklar said. "Bobbleheads of presidents and candidates remain very popular, and with Kanye's entrance into the 2020 race, it adds another bobblehead to the previously planned lineup of Trump and Biden."
About the National Bobblehead Hall of Fame and Museum:
The National Bobblehead Hall of Fame and Museum, which is located at 170 S. 1st. St. in Milwaukee, Wisconsin, opened to the public on February 1st, 2019. The HOF and Museum also produces high quality, customized bobbleheads for retail sale as well as organizations, individuals and teams across the country. Visit us online and on Facebook, Twitter and Instagram.