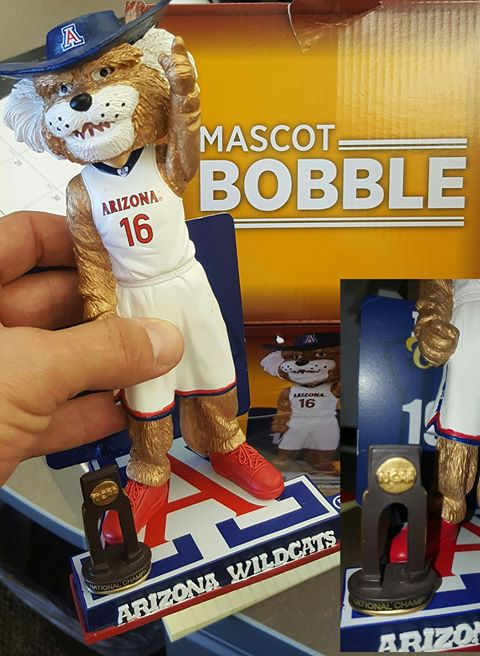 In the National Championship game held at the RCA Dome in Indianapolis, Indiana, Arizona defeated defending National Champions, Kentucky, in overtime 84-79 to win their first national championship.
This is the 20th Anniversary of Arizona's 1997 National Championship
Arizona became the only school since the introduction of the 64-team bracket in 1985, to defeat three number 1 seeds in the tournament, having upset overall number one seed Kansas in addition to their two Final Four victories.
Miles Simon of Arizona was named the tournament's Most Outstanding Player. The team also featured Mike Bibby, Jason Terry and Michael Dickerson. The team was coached by legendary coach Lute Olson.
The only team from the state of Arizona to win a Men's Basketball National Championship.
Fans can watch the full National Championship game on YouTube.
Limited Edition NCAA Men's Basketball Championship Bobblehead Series 2 Unveiled
Contact: Phil Sklar – 414-519-2625 – phil.sklar@bobbleheadhall.com
Bobbleheads featuring mascots from ten NCAA Division 1 Schools that have won a single National Championships are now available for sale.
MILWAUKEE, Wi., March 1, 2017 – – Today, the National Bobblehead Hall of Fame and Museum unveiled bobbleheads commemorating NCAA Men's Basketball National Championships for ten Division 1 Schools. Each school's bobblehead is individually numbered to only 216. The bobbleheads are only available on the National Bobblehead HOF and Museum's website.
The following schools were produced in this series: Arizona Wildcats (1997), Arkansas Razorbacks (1994), California Golden Bears (1959), Georgetown Hoyas (1984), Marquette Golden Eagles (1977), Ohio State Buckeyes (1960), Oregon Ducks (1939), Syracuse Orange (2003), Utah Utes (1944) and Wisconsin Badgers (1941). The bobbleheads, which are officially licensed, are in stock and ship now. The bobbleheads are $40 each, with flat rate shipping of $8.
These are the first bobbleheads commemorating each school's championships. Each bobblehead features the school's current mascot with replica NCAA National Championship trophies as well as a backing that lists the year of each school's championship. The NCAA has crowned a Men's Basketball National Champion since 1939, with only 35 different schools winning at least one National Championship and only 15 schools winning multiple championships.
The first series, which features schools that have won multiple championships, features: Kentucky Wildcats (8 Championships), North Carolina Tar Heels (5), Connecticut Huskies (4), Louisville Cardinals (3), Kansas Jayhawks (3), Villanova Wildcats (2), North Carolina State Wolfpack (2), Michigan State Spartans (2), Oklahoma State Cowboys (2), San Francisco Dons (2), Cincinnati Bearcats (2) and Florida Gators (2). The Kentucky, North Carolina, Louisville and Villanova Bobbleheads are sold out, while a limited number of the other schools remain. =
"March Madness is officially here, and we thought this would be the perfect time to release the second series of College Basketball Championship Bobbleheads," said Phil Sklar, Co-Founder and CEO of the National Bobblehead Hall of Fame and Museum. "These bobbleheads are the perfect way for fans to commemorate their favorite school's championships, and what better time than March to celebrate those memories."
"We designed these to be the ultimate memento for each of the school's biggest fans," said National Bobblehead Hall of Fame and Museum Co-Founder and President, Brad Novak. "These will be cherished collectibles that bring back great memories of championship seasons."
The Hall of Fame and Museum has plans to complete the series over the next year. Championship bobbleheads for the following schools have yet to be created: UCLA, Duke, Indiana, CCNY, Holy Cross, LaSalle, Loyola (Ill.), Maryland, Michigan, Stanford, UNLV, UTEP and Wyoming.