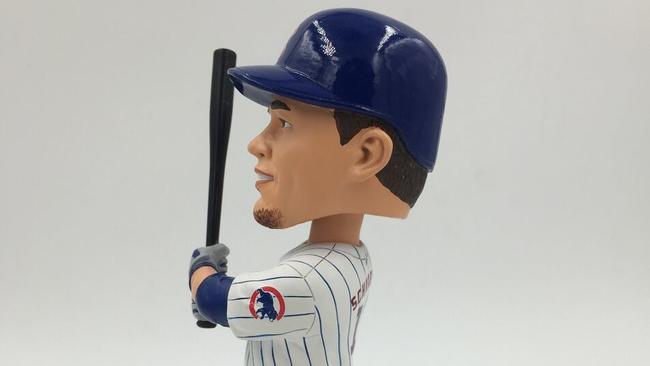 Kyle Schwarber home run bobblehead already going, going, gone By Phil Thompson
Now if you want a memento of Kyle Schwarber's Wrigley Field video board home run, you'll have to climb atop the board, break open a glass case and take the home run ball. And be sure to bring bail money.
For a hot minute Thursday morning, there was a bobblehead commemorating the Cubs slugger's iconic bomb in the 2015 playoffs. However, ravenous fans and memorabilia hounds scooped up the collectible in less than two hours, according to the National Bobblehead Hall of Fame and Museum.
"Kyle and what he has accomplished in such a short time is nothing short of unbelievable, and that has certainly fueled demand," Phil Sklar, co-founder and CEO of the museum, said via email.
Fans already have taken to calling the third-year pro "Babe Ruth Jr." or "Babe Schwarber." After a six-month layoff following knee surgery, Schwarber saw his first baseball action since April in the World Series, collecting seven hits and setting the table in the Cubs' Game 7 rally with a leadoff single in the 10th inning.
That wasn't the first time he displayed postseason heroics. The Schwarber bobblehead highlights the outfielder's 419-foot shot that landed beneath the Budweiser sign in the seventh inning of Game 4 of the National League Division Series against St. Louis.