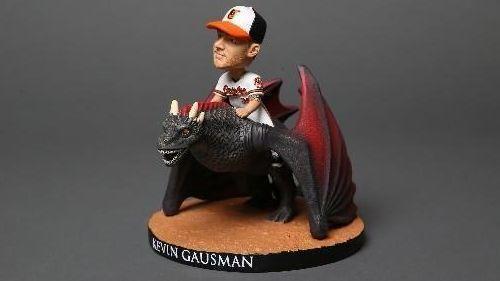 Kevin Gausman — and his bobblehead — will still reign on Orioles' 'Game of Thrones' night By Katherine Fominykh
If you thought the Orioles would cancel Kevin Gausman's "Game of Thrones" bobblehead night after he was traded to the Atlanta Braves, you know nothing.
The Orioles still plan to hand out the Gausman keepsakes on "Game of Thrones" night (Aug. 14) to all fans who purchased the evening's ticket package, a team spokeswoman said. Tickets are still on sale at orioles.com/gameofthrones.
The bobblehead depicts the right-hander riding a dragon.
Gausman was dealt to the Braves on July 31 at the trade deadline.
This won't be the first time a team has had to honor their promised promotion after a player has been traded; it's not even the first time "Game of Thrones" night has been involved.