JuJu Smith-Schuster Bike Celebration Bobblehead Unveiled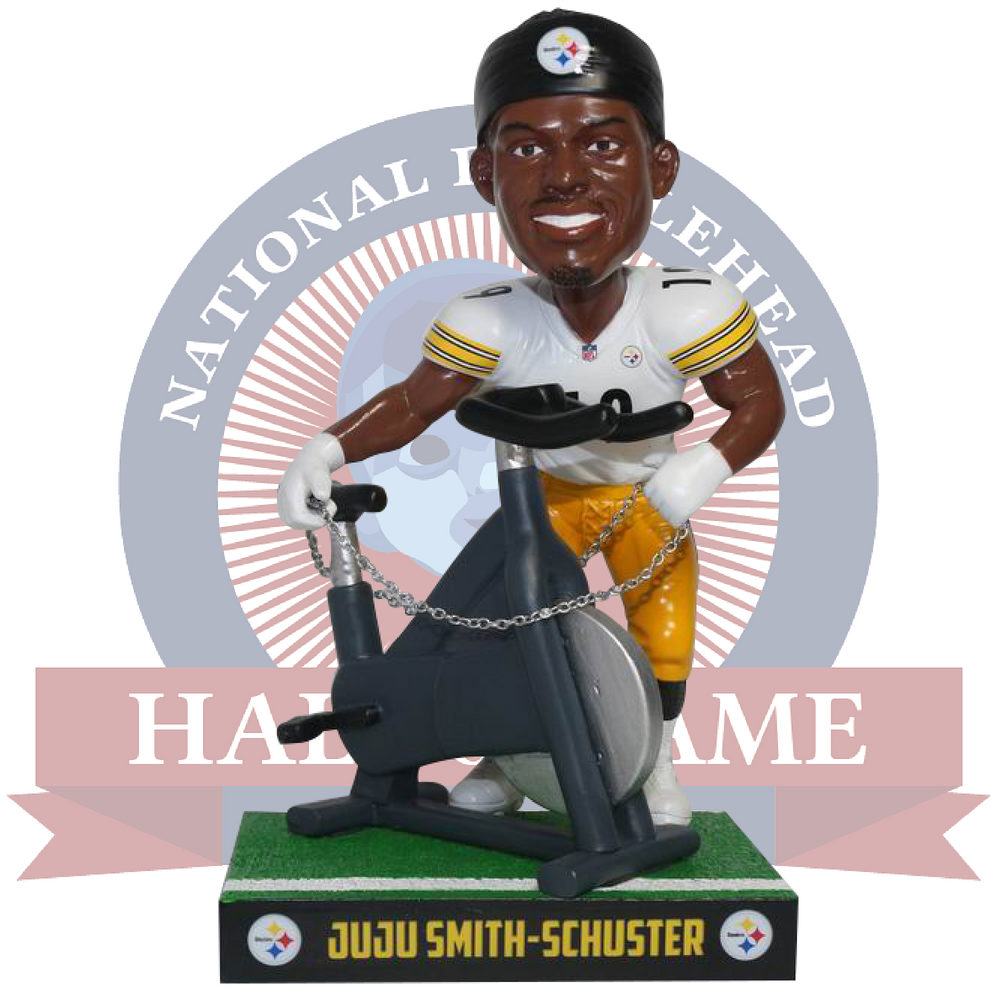 Limited Edition bobblehead featuring JuJu Smith-Schuster tying up the stationary bike is now available for pre-order exclusively from the National Bobblehead HOF and Museum.
MILWAUKEE, Wi., October 9, 2018 – This morning, the National Bobblehead Hall of Fame and Museum unveiled a limited-edition bobblehead commemorating JuJu Smith-Schuster's epic touchdown celebration depicting JuJu tying up the stationary bike on the sideline. After scoring a 97-yard touchdown in the Steelers Week 8 game at the Detroit Lions last season, Smith-Schuster ran to the sidelines, grabbed a chain and tied up the stationary bike. This came just days after the story of the rookie wide receiver's bike being stolen went viral.
The limited edition bobbleheads, which are individually numbered to only 1,000, are in production with the first batch of 360 scheduled to ship in November. The bobbleheads are $40 each with a flat rate shipping charge of $8 per order and were produced exclusively for the National Bobblehead Hall of Fame and Museum by FOCO. Last year, the National Bobblehead Hall of Fame and Museum released a bobblehead of Smith-Schuster riding his bike, and that bobblehead sold out in record time.
The saga with Smith-Schuster and his bike started earlier that week when he posted a video of himself walking to practice on social media and explaining that someone had stolen his bike. Word quickly spread, and within 24 hours, his bike was returned, which was a good thing because JuJu didn't even have a driver's license! His celebration came in a breakout night for the rookie sensation who recorded seven catches totaling 193 yards in the game.
JuJu was selected by the Pittsburgh Steelers in the second round of the 2017 NFL Draft with the 62nd overall pick. When Schuster made his NFL debut, he was the youngest player in the NFL. He quickly became one of quarterback Ben Roethlisberger's favorite targets finishing his stellar rookie season with 58 receptions for 917 yards and seven touchdowns, leading all rookies in yards and touchdowns.
During his three-year career at the University of Southern California (USC), Smith-Schuster tallied 3,092 receiving yards and 25 touchdowns. Prior to his college football career with USC, he played wide receiver and safety at Long Beach Polytechnic High School in Long Beach, California.
"The popularity of the first bobblehead combined with the request by a lot of fans for one commemorating the unique celebration made this one a no-brainer," said Phil Sklar, Co-Founder and CEO of the National Bobblehead Hall of Fame and Museum. "For fans that were able to get the first one, this will make the perfect addition to the collection, and for those that missed out on the first one, they now have a chance to commemorate JuJu's bike story in bobblehead form."
About the National Bobblehead Hall of Fame and Museum:
The National Bobblehead Hall of Fame and Museum is finishing set-up of its permanent location, which is expected to open this Fall. The HOF and Museum was announced in November 2014 and hosted a Preview Exhibit in 2016.  The HOF and Museum also produces high quality, customized bobbleheads for organizations, individuals and teams across the country. Visit us at www.BobbleheadHall.com, www.facebook.com/BobbleheadHall or www.twitter.com/BobbleheadHall.
About FOCO:
Previously known as Team Beans, LLC and Forever Collectibles, FOCO is a leading manufacturer of sports and entertainment merchandise celebrating more than 17 years in the industry. The company's ever-growing product lines include apparel, accessories, toys, collectibles, novelties, footwear, holiday and more. FOCO is licensed with all major sports leagues including the NFL, MLB, NBA, NHL, NASCAR, MLS and over 100 colleges and universities as well as entertainment properties such as Disney, Warner Bros/DC Comics, Nickelodeon and Sanrio. Please reach out to Matthew Katz, Licensing Manager, mkatz@foco.com for more information.