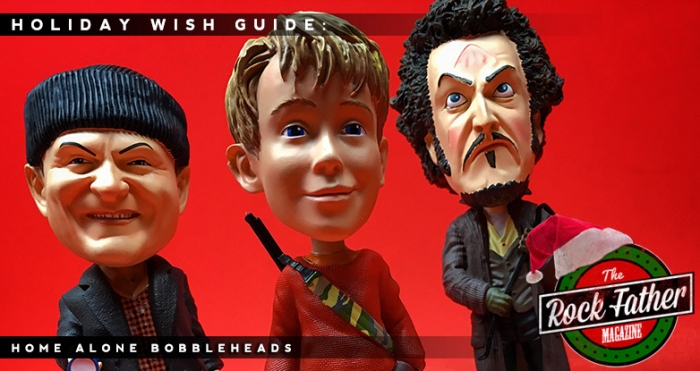 Holiday Wish Guide: Home Alone Bobbleheads are Ready for Battle! By James Zahn
It's been 26 years since Home Alone first hit theaters, and with the holiday season entering full-swing once more, families around the world will soon be catching up with Kevin McCallister and The Wet Bandits. Following last year's excellent Ultimate Collector's Edition of the five films in the Home Alone series, this year we spin back to where it all started, thanks to a new collection of bobbleheads released by the National Bobblehead Hall of Fame and Museum in Milwaukee. Designed and created by the team at NECA under license from 20th Century Fox, this trio of "Head Knockers" is one of the instances where the real product looks even better in person than it does in marketing materials – these are fantastic.
Produced in a limited run of 5,000 pieces for Kevin McCallister (Macaulay Culkin), and just 3,000 pieces each for both Harry (Joe Pesci) and Marv (Daniel Stern), these are available from the National Bobblehead Hall of Fame webstore at $30 each, or $80 for the set.
When my samples arrived in the Toy Testing Facility at Rock Father HQ (see video), I was initially impressed by the size – expecting them to be smaller. Measuring roughly 7½"-9½", they're weighty – each crafted of hand-painted resin. And they're well-painted, too – nicely detailed, and capturing the mischievous vibe all around!
The Home Alone Bobbleheads are packaged in colorful boxes that make a perfect (and safe) place for seasonal storage, with each encased in styrofoam. They're a featured pick in my 2016 Holiday Wish Guide here on THE ROCK FATHER Magazine. Get them while you still can! Available here.
Sidenote: Now, as some of you know, Rock Father HQ isn't terribly far from the actual "Home Alone House" here in the Northern Suburbs of Chicago, and since I'm always tempted to create some fun "toyography," the urge to stop by for a shoot with my new bobbleheads is tempting. Sadly, the most recent owners of the Home Alone House are pretty Scrooge on the whole affair – acting as if they had no idea what they were getting into when they bought the property. It's blurred from Google Maps, has had a small fence around it for a couple of years, and this year they've upped their game with a chain-link construction fence across the front. I'm sure the neighbors love them. You can see pictures on Instagram, and see annoyed pictures from the owners in which they mock Home Alone fans! The desire for privacy is something I relate to immensely at home, but then again, I didn't buy a property that's been featured in thousands of news items over the past quarter-century. Rather than be known for negativity, why not embrace the history and do a holiday display each year to put a little warmth and positivity into the world?