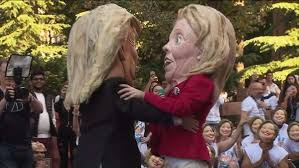 Hillary Clinton, Donald Trump bobbleheads face off in dodgeball match By MAGEE HICKEY
GREENWICH VILLAGE, Manhattan — Tuesday afternoon began with a casual stroll by the two opposing bobbleheads in Washington Square Park.
A larger-than-life Donald Trump bobblehead and an equally large Hillary Clinton stood far apart as spectators looked on.
"Why does he look so mean?" Oscar Hubble,5, asked the Donald Trump bobblehead.
"I like it," Thelma Hillman, 99, told PIX11.
But this was just to warm up to the main event, political dodgeball, with a dance off to get things moving.
"Anything that raises awareness and gets people to get out and vote, that's a good thing," Terence Thomas, a park goer, told PIX11.
It was all to raise money for three different charities through givit.com.
"It has nothing to do with any political message," Napolean Canizales, CEO of givit.com, told PIX11. "It's all to raise money for charity and create a little fun."
But just as soon as this non partisan, tongue-in-cheek game of political dodgeball was getting underway, the NYPD swooped in to break it up because this flash mob style event was blocking traffic.
The candidates danced together and kissed as NYU students cheered.
"Two bobbleheads in Washington Square Park and they are 'yooge'", one NYU student said.