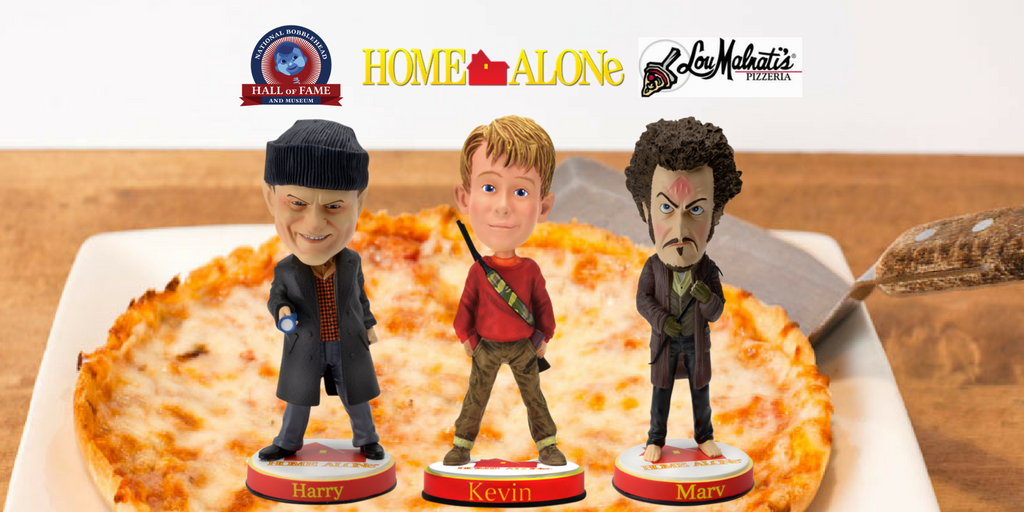 "Home Alone" and Cheese Pizza -- The Perfect Holiday Combo!
Movie fans now get a FREE Lou Malnati's Pizza with Home Alone Bobbleheads from the National Bobblehead Hall of Fame.
Just purchase the official "Home Alone" bobblehead set (https://store.bobbleheadhall.com/products/homealone) between now and December 31st.
Milwaukee, WI – December 19, 2017 - Every "Home Alone" fan knows how important a "lovely cheese pizza" is to the film's hero, Kevin McCallister. And this year, the Bobblehead Hall of Fame is delivering the ultimate "Home Alone" experience to movie fans in the Chicago area and all those planning a future visit.
From now through December 31, 2017, everyone who purchases the Limited Edition Home Alone Bobblehead Set featuring Kevin (played by Macaulay Culkin), Harry (played by Joe Pesci) and Marv (played by Daniel Stern) from the National Bobblehead HOF Online Store will also receive a Lou Malnati's gift card with the value of a small thin rust cheese pizza loaded onto it. The gift cards never expire, giving Home Alone fans across the planet another great reason to visit Chicago, where they can also see several Home Alone filming locations.
This offer is available exclusively in the National Bobblehead HOF Online Store, where the Limited Edition bobbleheads are available for $20 each, or $55 for the set of three, plus a flat rate shipping cost of $8 per order. Every purchase of the three-bobblehead set through December 31 will qualify for Lou Malnati's gift card offer when customers enter the code PIZZA in the notes field. The bobbleheads were produced by NECA exclusively for the National Bobblehead HOF and are officially licensed by 20th Century Fox. Only 5,000 of the Kevin and 3,000 of the Harry and Marv bobbleheads were produced in the limited-edition series.
"We're thrilled to be offering this great package that combines bobbleheads from the best movie ever with the best pizza on earth." said Phil Sklar, Co-Founder and CEO of the National Bobblehead Hall of Fame and Museum. "Whether you're looking for a gift for a loved one who is a Home Alone fan or you're a Home Alone fan yourself, this package can't be beat!"
Home Alone and Home Alone 2 have become iconic movies, and cheese pizza played a role in both. In Home Alone, when Kevin's family only ordered one cheese pizza for the family on the eve of their trip to Paris, Kevin charged into his older brother, Buzz, who ate the pizza before Kevin could get any. After his family forgot him, Kevin ordered a "lovely cheese pizza" just for himself, telling the delivery driver from the fictional Little Nero's Pizza, "keep the change, you filthy animal" after giving a $0.20 tip. In Home Alone 2, Kevin enjoyed a cheese pizza during his limo tour of the New York City.
The National Bobblehead HOF Online Store has also just issued the first bobble-tarantula, which can be bought separately or added to any order for just $20.
About the National Bobblehead Hall of Fame and Museum
The National Bobblehead Hall of Fame and Museum was announced in November 2014. The HOF and Museum hosted a Preview Exhibit at RedLine Milwaukee from January through April, 2016, and is currently planning for a permanent location. The HOF and Museum also produces high quality, customized bobbleheads for organizations, individuals and teams across the country. Visit us at www.BobbleheadHall.com, www.facebook.com/BobbleheadHall or www.twitter.com/BobbleheadHall.
About Lou Malnati's Pizzeria
Considered the oldest family name in Chicago pizza, Lou Malnati's Pizzeria is a legendary company with 49 Chicagoland locations and two Phoenix restaurants. There has been a member of the Malnati family running the business since it started in 1971. Their signature deep dish is made from a recipe that has been handed down through four generations. They take pride in the excellent ingredients in their deep dish pizza made by hand an served with devotion to their world-wide loyal customers.
About Home Alone
Home Alone was released in 1990, while Home Alone 2 is celebrating its 25th Anniversary this year. When Kevin's family left on their European vacation, they forgot one little detail: Kevin. But as it turns out, being left behind has never been so much fun, as the 8-year-old uses every hilarious trick in the book to defend his home from a pair of bungling burglars who call themselves the Wet Bandits. The bobbleheads are officially licensed by 20th Century Fox. Home Alone was written and produced by John Hughes and directed by Chris Columbus.