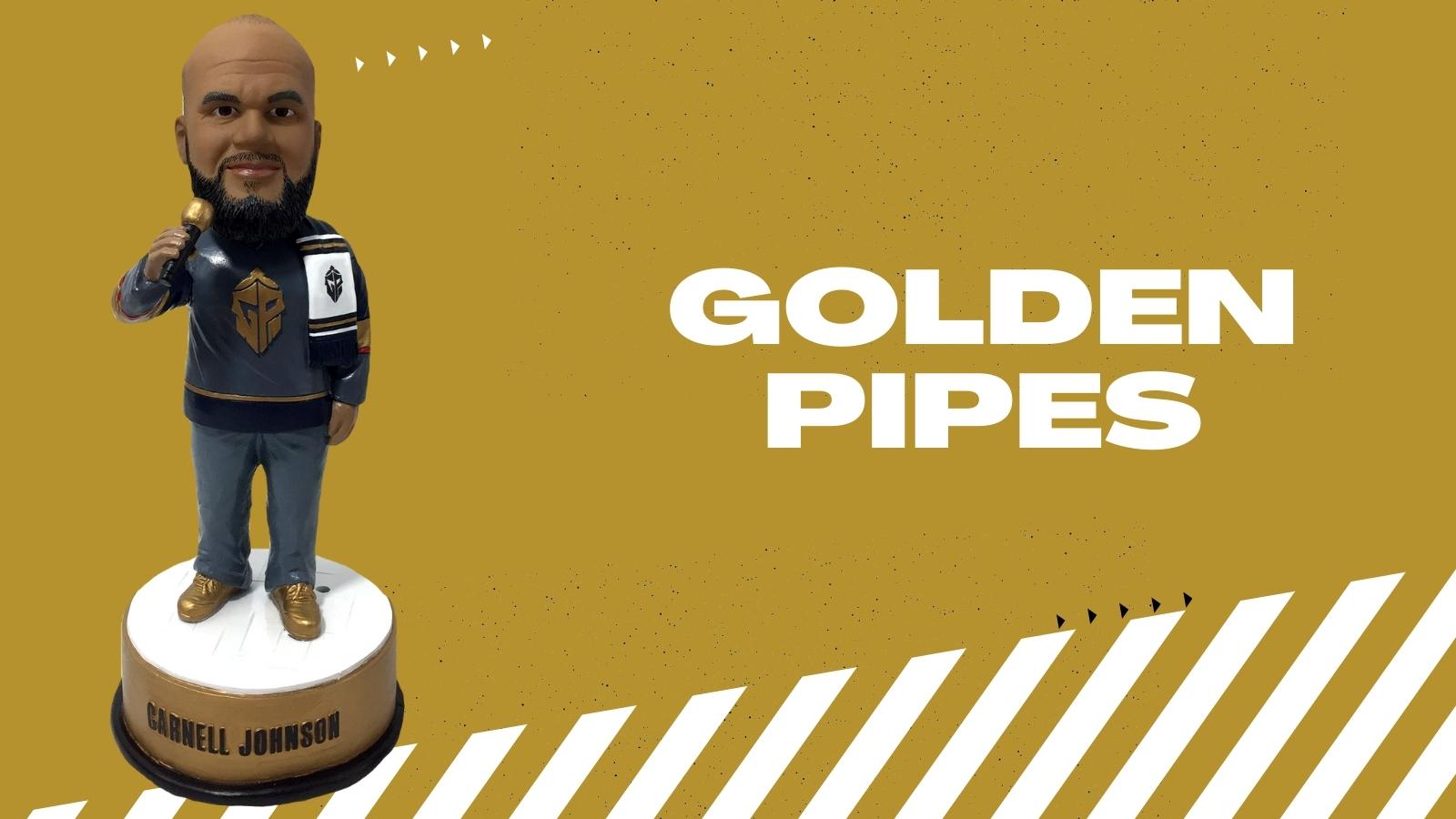 MILWAUKEE – Today, the National Bobblehead Hall of Fame and Museum unveiled a limited-edition bobblehead of Las Vegas native Carnell Johnson, who has become known as "Golden Pipes" for his powerful rendition of the national anthem prior to Vegas Golden Knights' games at T-Mobile Arena. The bobblehead, which will play a clip of Johnson singing The Star-Spangled Banner at the touch of a button, is being produced by the National Bobblehead Hall of Fame and Museum in conjunction with Johnson.
The bobblehead features the bearded Johnson holding a microphone on a circular ice rink-shaped base bearing his name on the front and nickname "Golden Pipes" on the back. He is wearing a scarf and jersey with a new "Golden Pipes" logo and "GOLDEN PIPES" on the back. Each bobblehead is individually numbered to 2,022 and they are only available through the National Bobblehead Hall of Fame and Museum's Online Store. The bobbleheads are $30 each plus a flat-rate shipping charge of $8 per order and are expected to ship in July.
Johnson, a Las Vegas native, is a classically trained bass-baritone with a degree in music education. When the Golden Knights were founded in 2017, the team put out a call for national anthem singers. They chose roughly 650 from 1,000 video entries received. Johnson was brought in for a live audition and was one of 41 people chosen for the 41 home games in the inaugural season.
Halfway through the Golden Knights' second season, Johnson was tabbed as the team's full-time national anthem singer. The 40-year-old, who also worked as a gondolier at The Venetian, a luxury hotel and casino on the Vegas Strip, has become a fan favorite as evidenced by the crowd's reaction when public address announcer Bruce Cusick announces him.
Johnson further endeared himself to the hometown faithful with a popular tradition every time he sings. When he gets to the line "gave proof through the night," he pauses, holds his microphone high and lets the crowd scream out "KNIGHT!" "Everyone enjoyed that I paused," Johnson told the Las Vegas Sun about the birth of the tradition. "I wanted to acknowledge and respect the fans' dedication and their contribution to the environment, and I think they liked it."
When asked about his new bobblehead, Johnson said, "I am so thankful and honored that I was given this opportunity. Thank you to the Bobblehead Hall of Fame and to all the fans for making this possible! It's been a crazy ride and I hope to be on it for a good long while!"
"We were lucky enough to attend our first Golden Knights game in January when we were in town for a conference, and we were blown away by Johnson's rendition of the National Anthem," National Bobblehead Hall of Fame and Museum co-founder and CEO Phil Sklar said. "As soon as he finished, we started looking up to find more information on Johnson, and we quickly realized that he deserved to be honored with a bobblehead. We were thrilled that he got on board with the idea, and now fans will be able to have their own 'Golden Pipes' bobblehead."
About the National Bobblehead Hall of Fame and Museum:
The National Bobblehead Hall of Fame and Museum, which is located at 170 S. 1st St. in Milwaukee, Wisconsin, opened to the public on February 1st, 2019. The HOF and Museum also produces high quality, customized bobbleheads for retail sale as well as organizations, individuals, and teams across the country. Visit us online and on Facebook, Twitter and Instagram.