Giovanni Philadelphia Sports Podcast Host and Super Fan Bobblehead Unveiled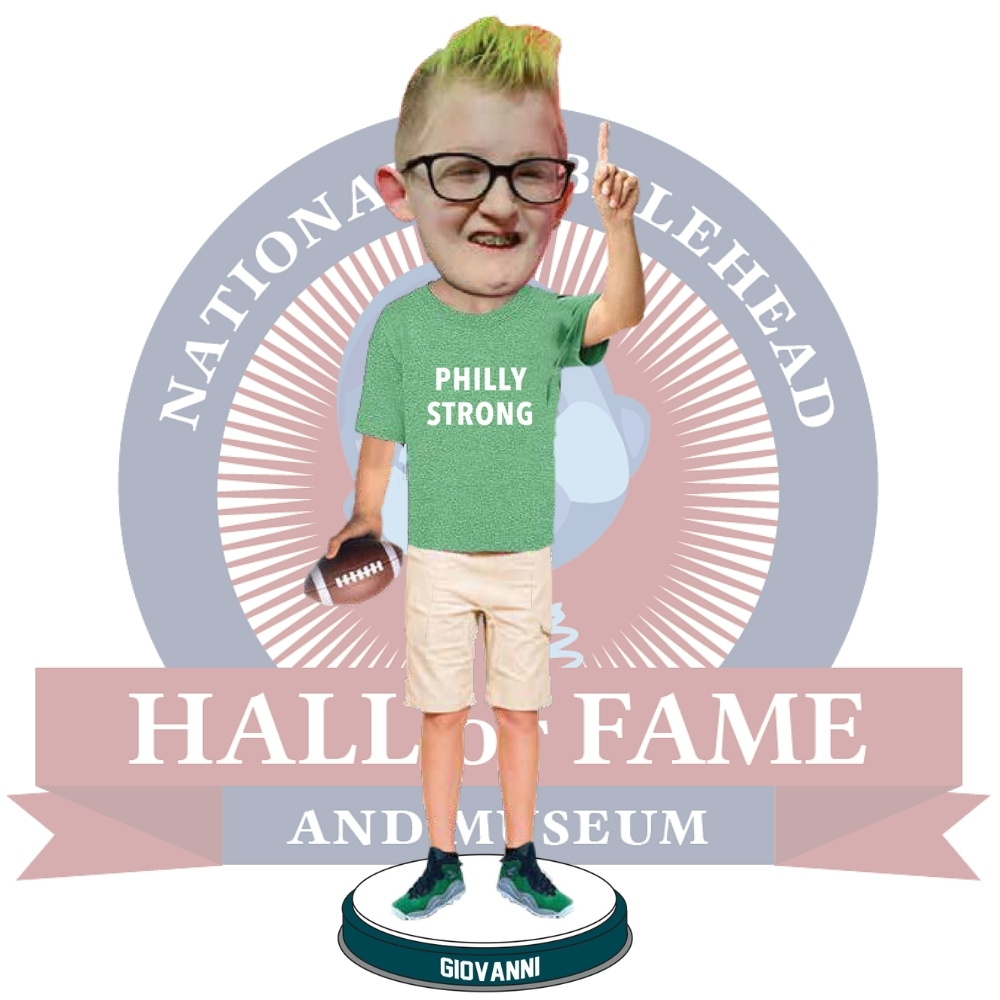 Giovanni Philadelphia Sports Podcast Host and Super Fan Bobblehead Unveiled
MILWAUKEE – This morning, the National Bobblehead Hall of Fame and Museum unveiled a limited-edition bobblehead of Giovanni Hamilton, the 13-year-old Philly sports podcaster, super fan, and internet sensation. Giovanni is part of the "Eagles Unfiltered" podcast team and in his popular "Philly Sports with Giovanni" podcast he goes 1-on-1 with some of the top athletes in Philadelphia and beyond. The special edition bobblehead is being produced by the National Bobblehead Hall of Fame and Museum in conjunction with Giovanni, and the Hall of Fame and Museum will be donating $5 from every bobblehead sold with half going to Giovanni and the other half going to the Ertz Family Foundation.
Standing on a circular base bearing his name, the smiling Giovanni bobblehead, sporting a green mohawk, is wearing a green T-shirt that says "Philly Strong" across the chest, khaki shorts and green shoes. He is holding a football in his right hand and giving the No. 1 signal with his left hand. Each bobblehead will be individually numbered to 2,021 and they are only available through the National Bobblehead Hall of Fame and Museum's Online Store. The bobbleheads are $25 each plus a flat-rate shipping charge of $8 per order and are expected to ship in December.
Giovanni has overcome significant challenges to become a well-known and loved Philadelphia sports super fan and podcaster. He was born with a rare genetic disorder called Schwartz-Jampel Syndrome, which causes skeletal abnormalities and severe muscle stiffness. In 2018, the Eagles helped make Giovanni's dream of attending a game at Lincoln Financial Field come true. During training camp in 2019, Giovanni met former Eagles quarterback Carson Wentz through a foundation called Bianca's Kids. From his wheelchair during a meet-and-greet, Giovanni broke down and was able to tell Wentz, "You're my hero," during an emotional exchange. Giovanni, who has had more than 15 surgeries since the age of 2, looked at Wentz as a role model for his ability to come back from multiple season-ending injuries. Since meeting with Wentz, Eagles fans have donated tickets so Giovanni, who lives in Lycoming County in central Pennsylvania, can be part of the game-day experience.
With more than 40,000 followers on Twitter (@GioThePodcaster), Giovanni made headlines during the 2020 NFL season when his "get well" video to injured Dallas Cowboys quarterback Dak Prescott went viral on social media, accumulating more than two million views. Prior to the 2021 season, Giovanni was devastated when Wentz was traded by the Eagles to the Indianapolis Colts. In an emotional video that later went viral, he said a tearful goodbye to his hero. When the trade became official a month later, Giovanni went on Twitter wearing a new Wentz Colts jersey, revealing the quarterback's new number (No. 2). Wentz has invited Giovanni and his family to a Colts' home game during the 2021 season. In recent months, Giovanni made a trip to State College to watch Penn State's final spring football practice. He also threw out the first pitch at a Phillies game.
When asked about the feeling of having his own bobblehead Giovanni said, "It means a lot to me to have a bobblehead, and I never thought I would have a bobblehead that looks like me. I am happy to help the Ertz Foundation help kids in Philadelphia and love what they are doing for the city. I really want to thank the National Bobblehead Hall of Fame and Museum for making a bobblehead of me. This is the coolest thing ever."
"When I watched Giovanni's video following Carson's trade, I immediately reached out on Twitter to offer to send some Carson bobbleheads. The more I learned about Giovanni, the more I realized we needed to honor him with a bobblehead," National Bobblehead Hall of Fame and Museum co-founder and CEO Phil Sklar said. "Gio's passion for both sports and life are unmatched, and his spirit and determination serve as an inspiration to all that we hope to embody in this bobblehead which will also help support some great causes.'"
About the National Bobblehead Hall of Fame and Museum:
The National Bobblehead Hall of Fame and Museum, which is located at 170 S. 1st St. in Milwaukee, Wisconsin, opened to the public on February 1st, 2019. The HOF and Museum also produces high quality, customized bobbleheads for retail sale as well as organizations, individuals, and teams across the country. Visit us online and on Facebook, Twitter and Instagram.