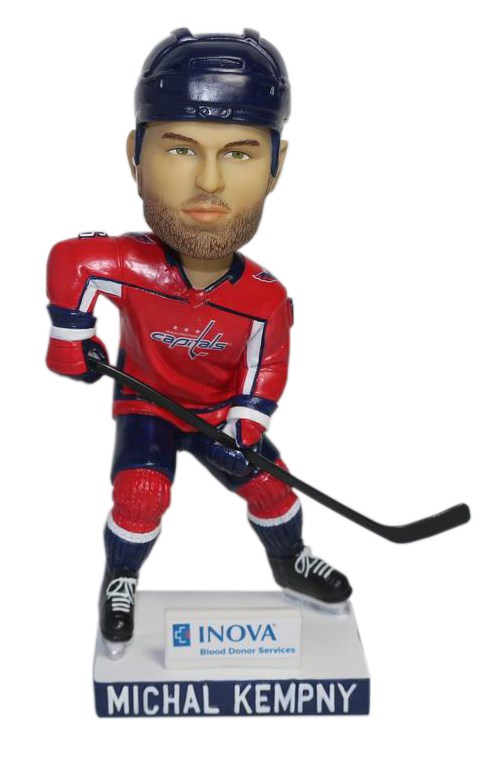 Get a Michal Kempny bobblehead if you donate blood with the Capitals on December 1 By Rachel Cohen
The Capitals announced on Wednesday morning that their next blood drive will be held on December 1 from 7am to 5pm at MedStar Capitals Iceplex.
Fans who donate will receive a t-shirt and this sweet bobblehead of Caps defenseman Michal Kempny.
Those who wish to donate blood must make an appointment by calling 1-866-BLOODSAVES (1-866-256-6372) or by going onto the Inova Blood Donor Services website. Slots will fill up fast, so make sure to make your appointment ASAP!
A friendly re-reminder to our many readers who celebrated the Caps' Stanley Cup win by getting tattooed: There is currently no wait to donate blood when your tattoo is received in a state-regulated facility using sterile single-use equipment. The tattoo site must be properly healed. However, there is a one-year wait when received in District of Columbia, Georgia, Idaho, Maryland, Massachusetts, Nevada, New Hampshire, New York, Pennsylvania, Utah and Wyoming and outside of the United States. For more info on Inova's donation eligibility, visit their website here.
More from the Caps:
The Washington Capitals and Inova Blood Donor Services will host a blood drive on Saturday, Dec. 1, from 7 a.m. to 5 p.m. at MedStar Capitals Iceplex in Arlington, Va. Appointments are required.

Donors will receive a bobblehead of Capitals defenseman Michal Kempny as well as a Capitals T-Shirt.

The 2018-19 season marks the 10th year the Capitals and Inova Blood Donor Services have collaborated to host blood drives. More than 19,495 units of blood have been collected since 2008. It is likely the donations collected at the Dec. 1 blood drive will result in a total of more than 20,000 units of blood being collected in the 10-year partnership, resulting in more than 60,000 lives saved to date. Caps fans are encouraged to sign up to donate at the Dec. 1 blood drive to help reach this milestone.

More than 250 units of blood and blood products are needed every day, year-round, for patients in area hospitals. One blood donation can save up to three lives, and there is a continual need for all blood types. There is no substitute for human blood. It only comes from volunteer blood donors. It is used to help trauma patients, surgery patients, newborn babies, cancer patients and transplant patients.

Donors can make an appointment now by calling 1-866-BLOODSAVES (1-866-256-6372) or by signing up online on the Inova Blood Donor Services website. All donors are asked to arrive at their scheduled appointment time.