First Travis Kelce Cincinnati Bearcats Bobblehead Unveiled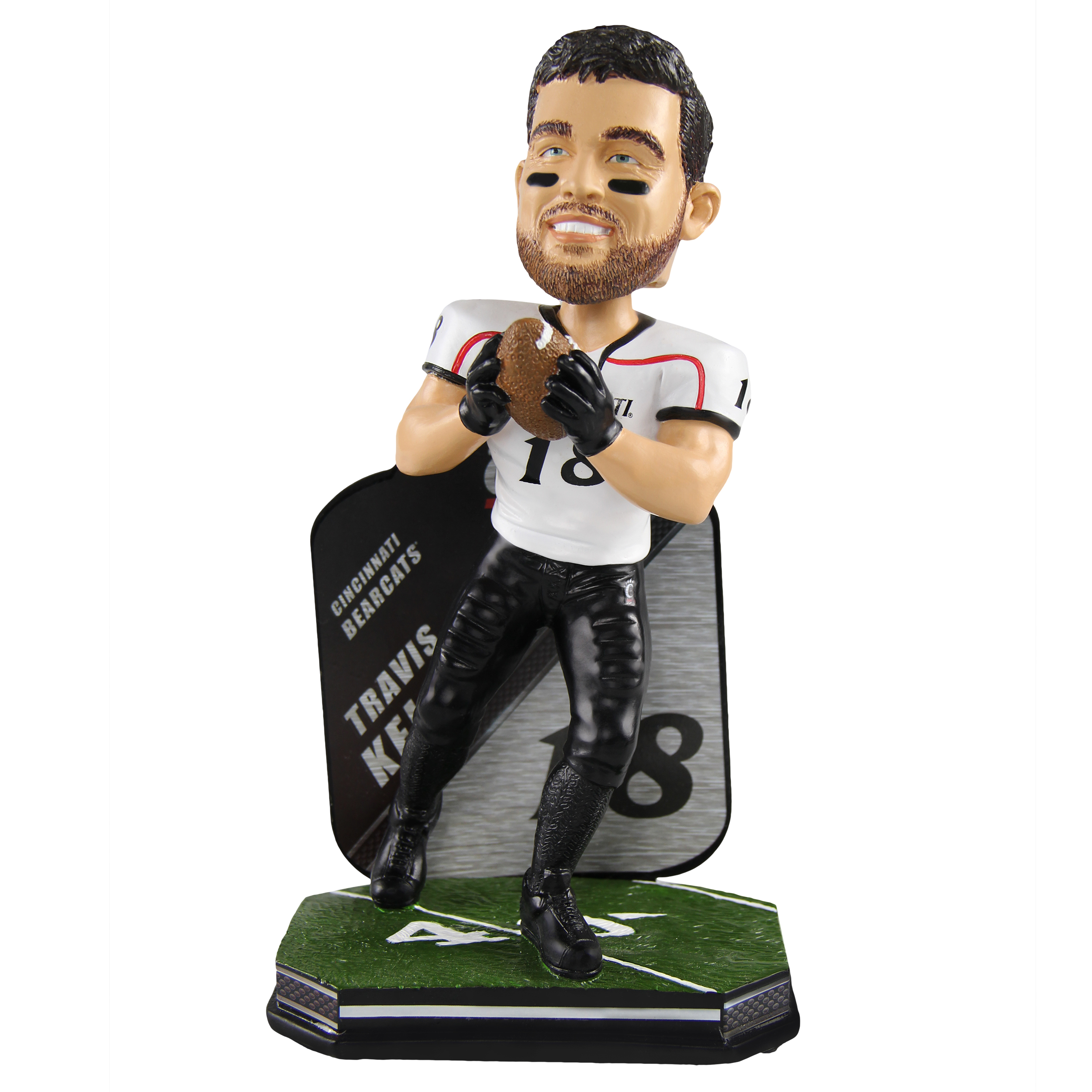 First bobblehead featuring Travis Kelce in his University of Cincinnati Bearcats uniform is now available exclusively from the National Bobblehead HOF and Museum.
MILWAUKEE, Wi., October 11, 2018 – – Today, the National Bobblehead Hall of Fame and Museum unveiled a limited edition bobblehead featuring NFL star, Travis Kelce, in his University of Cincinnati Bearcats uniform. Before becoming a dominant tight end with the Kansas City Chiefs, Kelce was a standout at the University of Cincinnati. This is the first bobblehead featuring Kelce in his University of Cincinnati Bearcats jersey.
The officially licensed, individually numbered bobbleheads are $40 each and are only available from the National Bobblehead Hall of Fame and Museum. The bobbleheads, which recently arrived, were produced exclusively for the National Bobblehead HOF and Museum by FOCO.
Kelce, who was a three-sport athlete in football, basketball and baseball at Cleveland Heights High School in Cleveland Heights, Ohio, accepted a scholarship offer from the University of Cincinnati and joined his brother, Jason Kelce, who was the starting left guard for the Bearcats. After redshirting in 2008, he appeared in 11 games, playing at tight end and quarterback out of the Wildcat formation in 2009. Kelce didn't play the following season due to a violation of team rules, a struggle which was recently chronicled in an ESPN feature on Kelce. After serving a one-year suspension, Kelce earned a spot back on the team for the 2011 season and saw action in 11 games recording 13 catches totaling 150 yards and two touchdowns. During his final collegiate year in 2012, Kelce set personal career highs in receptions (45), receiving yards (722), yards per reception (16.0), and receiving touchdowns (8) while earning first-team all-conference honors. In March 2012, Kelce was named winner of the College Football Performance Awards Tight End of the Year.
Kelce was selected by the Kansas City Chiefs with the 63rd overall pick in the 3rd Round of the 2013 NFL Draft and has made a big impact in the NFL. He was named First-Team All-Pro in 2016 and Second-Team All-Pro in 2017 and has been selected to the Pro Bowl in each of the last three seasons. Kelce has helped the Chiefs get out to a perfect 5-0 start, with three touchdowns and 407 receiving yards through the first five games. In five full years in the NFL, Kelce has amassed 25 touchdowns and over 4,300 yards.
"Kelce is one of the NFL's brightest stars, and is an impact player for the Chiefs," said Phil Sklar, Co-Founder and CEO of the National Bobblehead Hall of Fame and Museum. "This bobblehead will be a great collectible for University of Cincinnati and Kansas City fans."
About the National Bobblehead Hall of Fame and Museum:
The National Bobblehead Hall of Fame and Museum is finishing set-up of its permanent location, which is expected to open this Fall. The HOF and Museum was announced in November 2014 and hosted a Preview Exhibit in 2016.  The HOF and Museum also produces high quality, customized bobbleheads for organizations, individuals and teams across the country. Visit us at www.BobbleheadHall.com, www.facebook.com/BobbleheadHall or www.twitter.com/BobbleheadHall.
About FOCO:
Previously known as Team Beans, LLC and Forever Collectibles, FOCO is a leading manufacturer of sports and entertainment merchandise celebrating more than 17 years in the industry. The company's ever-growing product lines include apparel, accessories, toys, collectibles, novelties, footwear, holiday and more. FOCO is licensed with all major sports leagues including the NFL, MLB, NBA, NHL, NASCAR, MLS and over 100 colleges and universities as well as entertainment properties such as Disney, Warner Bros/DC Comics, Nickelodeon and Sanrio. Please reach out to Matthew Katz, Licensing Manager, mkatz@foco.com for more information.