First Officially Licensed emoji® Bobbleheads Unveiled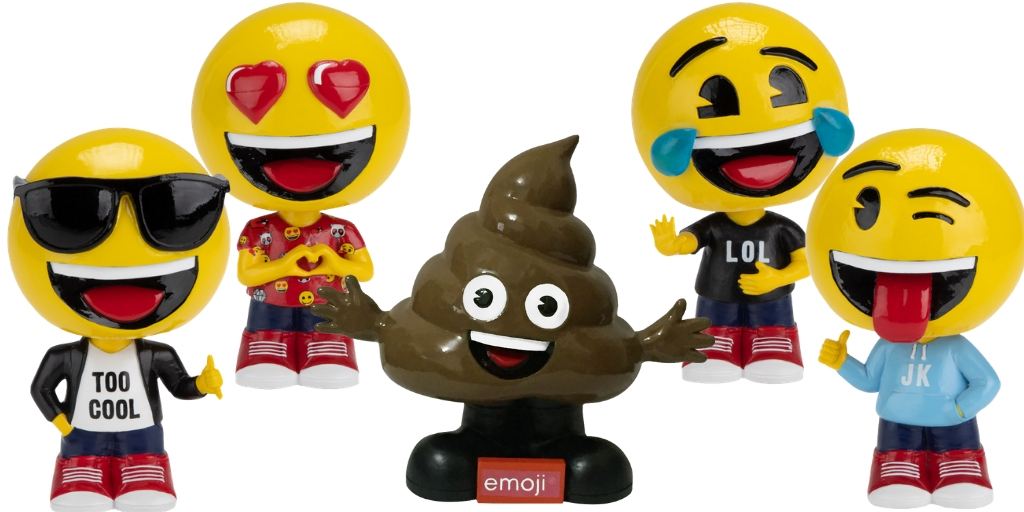 Limited Edition emoji® bobbleheads are now available exclusively from the National Bobblehead HOF and Museum.
MILWAUKEE, Wi., November 15, 2019 – This morning, the National Bobblehead Hall of Fame and Museum unveiled the first officially licensed emoji® brand bobbleheads.
The first emoji® bobbleheads feature four unique designs and come individually packaged in collector boxes. The bobbleheads are $20 each or $80 for the set of 5 and shipping is a flat rate of $8.
Today, there are over 17,000 official emoji® brand icons available from the emoji company. The official emoji® brand icon library represents everything from objects, expressions, people and animals. The emoji® brand has been depicted in a wide variety of merchandise items including apparel, stationary, home & living products and now emoji® bobbleheads.
"We're thrilled to be releasing this new line of emoji® brand bobbleheads that we're confident will be loved by emoji users everywhere," said Phil Sklar, Co-Founder and CEO of the National Bobblehead Hall of Fame and Museum. "We can't wait for people to get these bobbleheads and see how awesome they are in person!"
"We are excited about the launch and this partnership! There is no better synergy than two of the most iconic, fan-focused brands coming together to bring everyone's favorite form of communication to life!" says Marco Hüsges, CEO and Founder, the emoji company.
Retailers interested in carrying the emoji® brand bobbleheads should contact info@bobbleheadhall.com for more information.
About the National Bobblehead Hall of Fame and Museum:
The National Bobblehead Hall of Fame and Museum, which is located at 170 S. 1st. St. in Milwaukee, Wisconsin, opened to the public on February 1st, 2019. The HOF and Museum also produces high quality, customized bobbleheads for retail sales, organizations, individuals and teams across the country. Follow the Hall of Fame and Museum online and on Facebook, Twitter and Instagram.
About Success Promotions:
Success Promotions is the brains and design powerhouse behind the new, fun emoji® brand bobbles. With over 20 years of manufacturing and design experience, their dedication to bringing brands to life is unparalleled.
Owner and VP of Sales, Chad Everett, is like a little kid when talking about these fantastic collectibles.
"My goal is to take the iconic emoji ® brand faces we all know and love and couple that with a body that fully expresses an attitude and conveys an emotion. I feel we have captured this essence with wonderful creativity in our very first Collector Series. It will be a lot of fun to see how this theme and concept take life in the future. There will be a lot more to come!"
With a love for the emoji® brand and a passion for creating never-seen-before products, you never know what could be coming after this initial reveal. Stay tuned to more exciting creations and let your new emoji® bobblehead do the talking for you!
About emoji®-The Iconic Brand:
The emoji company is the owner of the registered emoji® trademark in more than 100 countries around the globe. Altogether the emoji company owns more than 1,000 trademarks and has created more than 17,000 icons protected under copyright laws and available for licensing and merchandising, promotions and marketing activities. The emoji company works with over 700 renowned global partners including Sony Pictures Animation, Walmart, Fuji, Nestlé, Ferrero, Unilever, Tesco and Burger King and was ranked by the Licensing.biz Powerlist as the 3rd most influential brand behind Lego and Coca-Cola.
The emoji company furthermore is one of the Top 150 Global Licensors (position number 57). For more information visit: www.emoji.com or contact: licensing@emoji.com.