First Les Grobstein Bobblehead Unveiled on Les Grobstein Day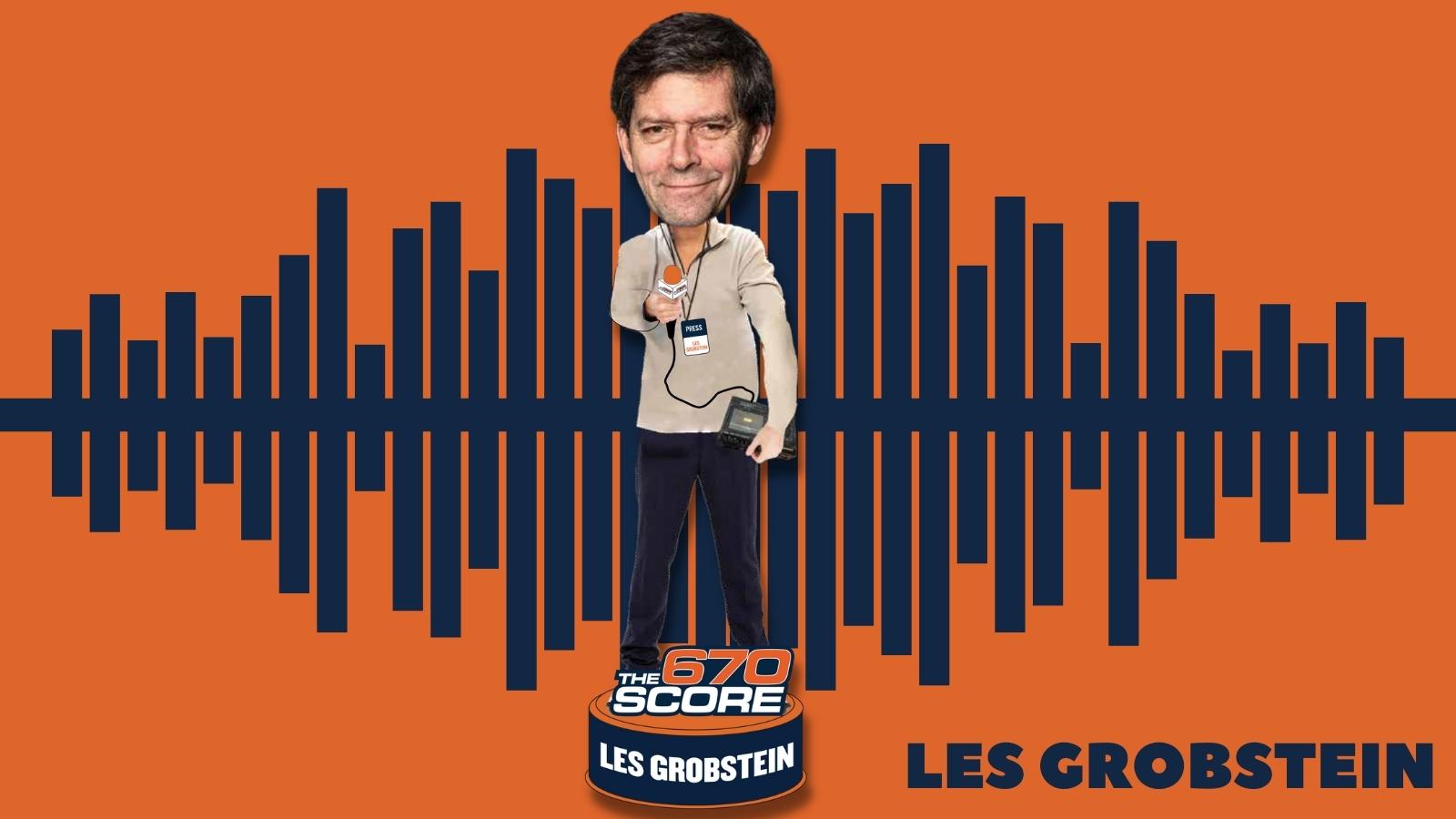 MILWAUKEE, WI – Today, the National Bobblehead Hall of Fame and Museum unveiled a limited-edition official bobblehead to honor longtime Chicago Sports Radio Broadcaster Les Grobstein, who passed away on January 16, 2022 at the age of 69. The bobblehead is being released on March 11, 2022, which would have been Grobstein's 70th birthday. In addition, Chicago Mayor Lori Lightfoot issued a proclamation declaring March 11, 2022, as Les Grobstein Day. The bobblehead is being produced by the museum in conjunction with Les Grobstein's family and AUTOGRAPH1 to honor the beloved "Grobber."
Wearing a press pass around his neck, the smiling Grobstein bobblehead is holding a microphone in his right hand and his trusty tape recorder in his left hand. He is standing on a circular base bearing his name along with the 670 The Score (WSCR-AM) logo. The bobblehead includes sound clips from Grobstein that play at the touch of a button.
Each bobblehead will be individually numbered and they are only available through the National Bobblehead Hall of Fame and Museum's Online Store. The bobbleheads, which are expected to ship in July 2022, are $30 each plus a flat-rate shipping charge of $8 per order.
Grobstein, a Chicago native, had a career that spanned over 50 years on the Chicago airwaves. Grobstein served as 670 The Score's weeknight overnight host since 2009. In addition to his time spent at 670 The Score, Grobstein was the Sports Director at WLS-AM Radio from 1979-89 and he also worked for WLUP-AM and WMVP-AM. He had worked for Associated Press Broadcasting since 1975 and ABC Sports Radio since 1980. His career play-by-play assignments included the Chicago Rush of the Arena Football League, Northwestern University Wildcats basketball, Chicago Hustle women's basketball, Chicago Sting soccer, Chicago Horizons indoor soccer, UIC Flames basketball and hockey, Chicago Cheetahs roller hockey, the Chicago Sky of the WNBA, and many high school football and basketball contests.
A fixture in press boxes for every professional sports team in Chicago and around the country, Grobstein's claim to fame was recording an infamous obscenity-laced tirade by former Chicago Cubs Manager Lee Elia in 1983 in which he ripped Cubs fans for failing to support the team. The clip remains popular almost 40 years later. Some wondered if Grobstein ever slept since he worked overnights in between covering games. Known for his encyclopedic memory and sports knowledge, Grobstein could remember the first Bears-Packers game he attended as a young fan in 1963. In his life, he attended more than 100 games between the bitter rivals.
Les' family made the following statement on the release of the bobblehead, "The family is still reeling from the sudden loss of Les, but we are thrilled to see this bobblehead released on his birthday. He was a bobblehead fan and would have loved seeing his bobblehead unveiled today."
"We are honored to release this bobblehead of Chicago sports legend Les Grobstein," National Bobblehead Hall of Fame and Museum Co-Founder and CEO Phil Sklar said. "Just like the rest of his loyal fans, we were saddened by the death of 'The Grobber'. Sports radio in Chicago, especially overnights, won't be the same."
AUTOGRAPH1 Co-Owners Mitch Dubinsky and Steve Gassman said, "When we received the call from National Bobblehead Hall of Fame and Museum Co-Founder and CEO Phil Sklar to get involved in producing another bobblehead, we were thrilled that it was going to be in honor of Chicago's very own Les Grobstein."

About the National Bobblehead Hall of Fame and Museum:
The National Bobblehead Hall of Fame and Museum, which is located at 170 S. 1st St. in Milwaukee, Wisconsin, opened to the public on February 1, 2019. The HOF and Museum also produces high quality, customized bobbleheads for retail sale as well as organizations, individuals, and teams across the country. Visit us online and on Facebook, Twitter and Instagram.
About AUTOGRAPH1:
AUTOGRAPH1, with a combined 50+ years' experience, brings pro athletes and current celebrities to you. We currently book our clients for public appearances, private signings, meet & greets and corporate events. Visit us online and on Twitter and Instagram. Contact us at autgrf1@gmail.com.