Baylor Bears Basketball National Champions Bobbleheads Unveiled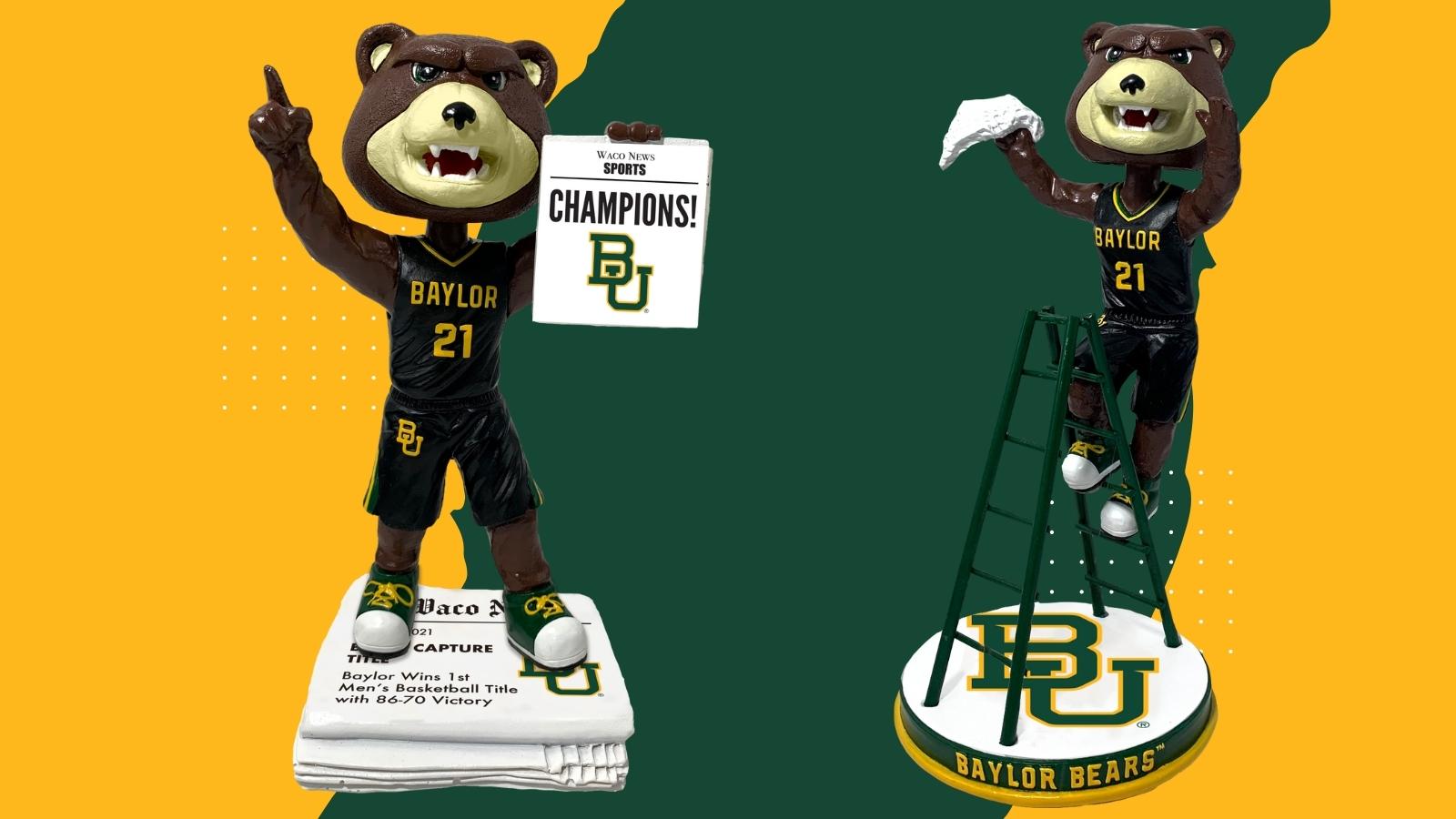 MILWAUKEE –This morning, the National Bobblehead Hall of Fame and Museum unveiled two officially licensed, limited-edition bobbleheads commemorating the school's first NCAA Men's Basketball National Championship. The release comes ahead of the anniversary of Baylor's title and as Baylor is setting out to defend its championship when the first round of the 2022 NCAA Men's Basketball Tournament tips off on Thursday with top-seeded Baylor takes on Norfolk State in Fort Worth. The special edition bobbleheads are being produced by the National Bobblehead Hall of Fame and Museum, an official licensee and manufacturer of Baylor Bears bobbleheads.
The first bobblehead features Baylor's mascot, Bruiser, standing on a ladder and holding the net for all to see after cutting it down. The circular base says Baylor Bears and has Baylor's logo. The second bobblehead features Bruiser giving the No. 1 signal with his right hand, while holding up a copy of the Waco News sports section in his left hand. The paper proclaims BU as CHAMPIONS! Bruiser is standing on a stack of newspapers in which the front page shows the date with the headline "BEARS CAPTURE TITLE." For both bobbleheads, Bruiser is wearing a Baylor uniform with No. 21 and his name on the back.
Each bobblehead is individually numbered to 2,021 and they are only available through the National Bobblehead Hall of Fame and Museum's Online Store. The bobbleheads, which are expected to ship in May, are $30 for the newspaper bobblehead, $35 for the ladder bobblehead, or $60 for the set of two plus a flat-rate shipping charge of $8 per order.
Under 18th-year coach Scott Drew, Baylor finished in first place in the Big 12 Conference with a 13-1 record and earned a No. 1 seed in the South Regional for the NCAA Tournament in Indianapolis. The Bears rolled to the Sweet 16 with victories over 16th-seeded Hartford, 79-55, and ninth-seeded Wisconsin, 76-63, in the first two rounds. They then beat fifth-seeded Villanova, 62-51, and third-seeded Arkansas, 81-72, to advance to their first Final Four since 1950. In the national semifinals, Baylor drubbed Houston, 78-59, to advance to its first National Championship since 1948. Facing undefeated Gonzaga in the final, Baylor jumped out to an early lead and was never threatened in an 86-70 victory at Lucas Oil Stadium, capping a 28-2 season.
Junior guard Jared Butler was selected as the Most Outstanding Player of the Final Four, while junior guard Davion Mitchell was named to the All-Final Four team. Rounding out the Baylor starting lineup were seniors MaCio Teague and Mark Vital and junior Flo Thamba. Valuable performers off the bench were junior Matthew Mayer and sophomores Adam Flagler and Jonathan Tchamwa Tchatchoua.
Baylor followed up its National Championship season with another tremendous regular season campaign this year. The Bears entered post-season play with a 26-5 record and ranked in the top 5 in both polls. Baylor shared the 2021-22 Big 12 men's basketball regular season title with Kansas after both completed the conference season with a 14-4 record, giving Baylor back-to-back Big 12 regular season crowns. The Bears will set out to defend their National Championship and become the first school to win back-to-back men's basketball titles since the Florida Gators won in 2006 and 2007.
"Bobbleheads are the perfect way for fans to celebrate their team's championship forever," National Bobblehead Hall of Fame and Museum co-founder and CEO Phil Sklar said. "We think Baylor fans will love these bobbleheads celebrating the school's first men's basketball title!"
About the National Bobblehead Hall of Fame and Museum:
The National Bobblehead Hall of Fame and Museum, which is located at 170 S. 1st St. in Milwaukee, Wisconsin, opened to the public on February 1st, 2019. The HOF and Museum also produces high quality, customized bobbleheads for retail sale as well as organizations, individuals, and teams across the country. Visit us online and on Facebook, Twitter and Instagram.