First Bobbleheads of Four U.S. Olympians Unveiled: Elana Meyers Taylor, Kaillie Humphries, Erin Jackson, and Jason Brown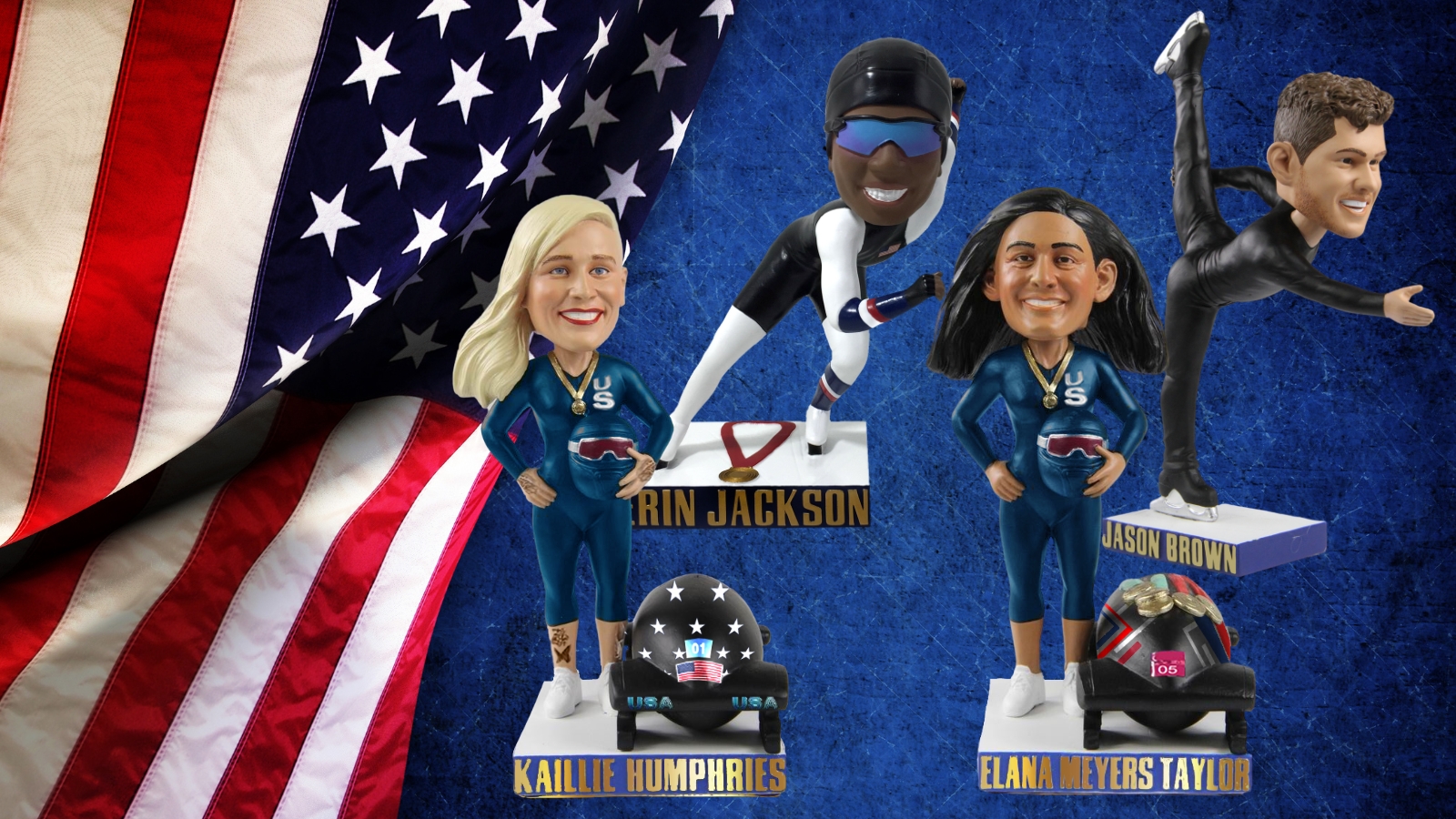 MILWAUKEE – This morning, the National Bobblehead Hall of Fame and Museum unveiled the first bobbleheads featuring four U.S. Olympians: bobsledders Elana Meyers Taylor and Kaillie Humphries, speed skater Erin Jackson, and figure skater Jason Brown. The limited edition bobbleheads are being produced by the National Bobblehead Hall of Fame and Museum in conjunction with the athletes.
Each bobblehead is individually numbered to 2,022 and they are only available through the National Bobblehead Hall of Fame and Museum's Online Store at the links above. The bobbleheads, which are expected to ship in May, are $30 each plus a flat-rate shipping charge of $8 per order.
Elana Meyers Taylor:
Competing in her fourth Winter Olympics in 2022, Elana Meyers Taylor upped her medal total to five in her illustrious career with a silver medal in the inaugural monobob event and a bronze medal in the two-woman event with Sylvia Hoffman. With her two medals, Meyers Taylor surpassed speed skater Shani Davis for the most medals by a Black athlete in Winter Olympics history. She also became the most decorated U.S. Olympic bobsledder of all time. Previously, Meyers Taylor won a bronze medal in the two-woman in 2010 and silver medals in the two-woman in 2014 and 2018. Meyers Taylor was chosen as a flag bearer for Team USA in 2022, but she was unable to attend the opening ceremony after testing positive for COVID-19.
Born in Oceanside, California, and raised in Douglasville, Georgia, the 37-year-old Meyers Taylor played collegiate softball at George Washington University. She began bobsledding in 2007 at the suggestion of her parents after she failed to make the U.S. Olympic softball team. A two-time women's bobsled world and overall world cup champion in the two-woman event (2015 and 2017), Meyers Taylor became the first woman in U.S. history to win a world championship in the two-man event in 2015.
Competing in her fourth Winter Olympics in 2022, the 36-year-old Kaillie Humphries from Calgary was representing Team USA for the first time and won gold in the monobob with a total time of 4:19.27. The largest margin of victory in all bobsled disciplines in 42 years. She also finished in seventh place in the two-woman event with brakewoman Kaysha Love. Humphries previously competed for Canada, but left following a harassment complaint against the country's bobsled and skeleton team. She won gold for Team Canada in the two-woman bobsled event in 2010 and 2014 and bronze for the same event in 2018. She was named to the U.S. bobsledding team for the Beijing Olympics in early-February, two months after she became a naturalized citizen.
Kaillie Humphries
Since joining Team USA in 2019 – the same year she married former American bobsledder Travis Armbruster in California – Humphries has won three world titles, making her a five-time world champion and the most decorated woman in bobsled history. Humphries has tattoos that cover "about 60 percent of my body." Among them are tributes to her late grandfather and late uncle and portraits of her parents, Olympic medals and other visuals that represent who she is. She is currently still competing while going through IVF to achieve her dreams of starting a family as well. She hopes to inspire people all over the world to fight for their dreams and do what others say is impossible. She is affiliated with the "I've Been Bullied" campaign, Right to Play, a sports program for underprivileged youth, and the Special Olympics.
When asked about the bobblehead, Humphries said, "It's an honor to join the bobblehead hall of fame collection to celebrate my sport career and the great accomplishments over the last year, this is such a fun way to commemorate"
Erin Jackson
Competing in her second Winter Olympics in 2022, 29-year-old Erin Jackson won the gold medal in the 500 meters in a time of 37.04 seconds. With her victory, she became the first U.S. woman to capture a speed skating gold at the Olympics since Chris Witty won the 1,000 meters in 2002, and she became the first American woman to win the women's 500 meters since Bonnie Blair in 1994. She also became the first Black woman to win an Olympic gold medal since bobsledder Vonetta Flowers in 1992. What made Jackson's story even more amazing is she first stepped on an ice rink in 2016. Also, she was only able to compete in the event after teammate and longtime friend Brittany Bowe gave up her spot in the race to Jackson, who initially did not qualify after she slipped in the trials.
Jackson, who grew up in Ocala, Florida, graduated with honors from the University of Florida in the materials science and engineering program. With prior experience in roller derby and inline skating, Jackson transitioned to the ice in 2016. She qualified for the 2018 Winter Olympics in Pyeongchang, South Korea, with only four months of experience speed skating on the ice. Jackson qualified in the 500 meters and placed 24th out of 31 competitors. In November of 2021, Jackson won her first World Cup 500-meter races in Poland with two track records, making her the first Black American woman to win in the World Cup.
Jason Brown
Competing in his second Winter Olympics in 2022 after not competing in 2018, 27-year-old Jason Brown bested his ninth-place showing from the 2014 Sochi Games. Minus the flowing ponytail which had been his trademark, Brown came in sixth place with a program set to music by John Williams. Regarded as one of the best spinners in the world, he had personal-best scores of 97.24 in the short program and 184.00 in the free skate for a combined total of 281.24. Afterward, he told reporters that he has accomplished all of his goals but hasn't decided yet if it's time to retire. As a 19-year-old in 2014 in Sochi, Brown was part of the bronze-winning U.S. group in the team competition to become one of the youngest male figure skating Olympic medalists.
Born in Los Angeles, Brown grew up in the Chicago suburb of Highland Park, Illinois. He began to skate when he was 3 years old and began working with a coach two years later. Brown emerged on the national skating scene in 2010 when he won the national junior title. In the years that followed, he was routinely ranked among the top 10 skaters in the world. Brown, who moved from Colorado to Toronto in recent years, is a nine-time Grand Prix medalist, a two-time Four Continents medalist and the 2015 U.S. national champion. More recently, he served as team captain and finished sixth as the U.S. won silver at the 2021 World Championships.
Jason Brown commented on his bobblehead saying, "Never thought I'd be honored as a bobblehead, but so fun to see this come to life. Hope it makes you smile and brings you joy!"
"We are excited to release the first bobbleheads for these accomplished Olympic athletes," National Bobblehead Hall of Fame and Museum co-founder and CEO Phil Sklar said. "Bobbleheads are the ultimate honor, and we know fans of Kaillie, Elana, Erin, and Jason will be excited to have these bobbleheads."
About the National Bobblehead Hall of Fame and Museum:
The National Bobblehead Hall of Fame and Museum, which is located at 170 S. 1st St. in Milwaukee, Wisconsin, opened to the public on February 1st, 2019. The HOF and Museum also produces high quality, customized bobbleheads for retail sale as well as organizations, individuals, and teams across the country. Visit us online and on Facebook, Twitter and Instagram.
Categories:
Uncategorised