Fairleigh Dickinson Knights #16 Seed Upset Bobblehead Unveiled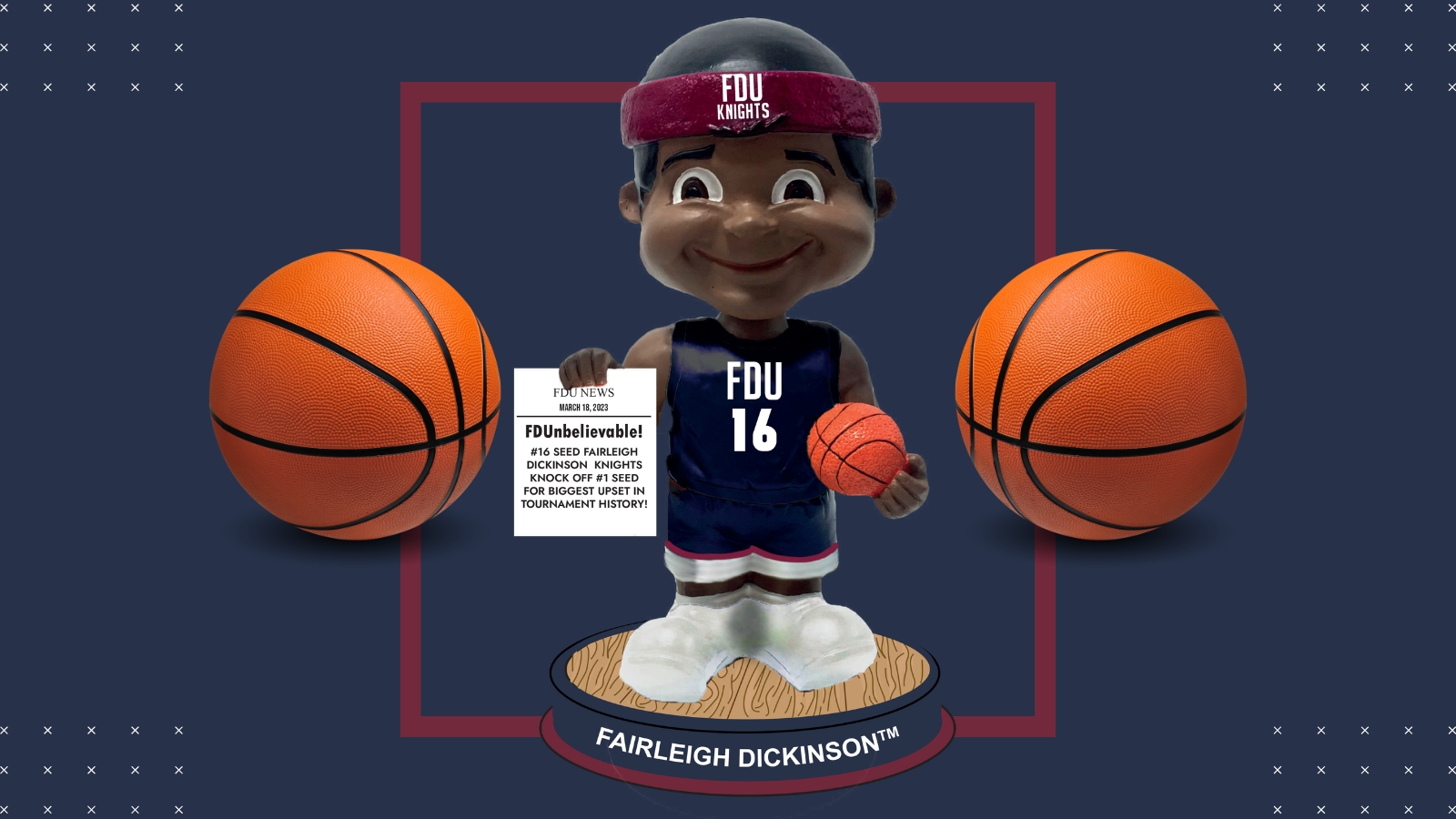 MILWAUKEE – Today, the National Bobblehead Hall of Fame and Museum unveiled an officially licensed, limited-edition Fairleigh Dickinson Knights Bobblehead to celebrate #16 seeded FDU's unbelievable win over #1 seeded Purdue in the First Round of the 2023 NCAA Tournament last Friday. This marks the first bobblehead for Fairleigh Dickinson, and it joins bobbleheads produced by the Museum to commemorate fellow New Jersey school Saint Peter's 2022 Cinderella run and UMBC's first win as a #16 seed in the Men's NCAA Tournament.
FDU captured the attention of sports fans everywhere with their stunning victory over top-seeded Purdue in the first round of the 2023 NCAA Tournament on Friday, March 17th. The Knights became only the second No. 16 seed to win a game in March Madness, and their win over heavily favored Purdue became the biggest upset in the NCAA Men's Basketball Tournament.
The bobblehead features a generic vintage design with the player wearing #16 for Fairleigh Dickinson's 16-seed in the tournament. He is wearing the FDU uniform matching the one worn during the upset victory and holding a basketball in one hand and a newspaper in the other hand. The newspaper is dated March 18, 2023, and has the headline "FDUnbelievable!" with the text, "#16 seed Fairleigh Dickinson Knights knock off #1 seed for biggest upset in tournament history!"
Each bobblehead will be individually numbered to 2,023, are they are now available for pre-order through the National Bobblehead Hall of Fame and Museum's Online Store. The bobbleheads cost $30 each plus a flat-rate shipping charge of $8 per order. They are expected in ship in July.
Fairleigh Dickinson University is composed of four campuses with two in New Jersey, one in Canada and one in England. The school that registered the upset victory over Purdue was FDU's Metropolitan campus in Teaneck, New Jersey, which is less than five miles from Manhattan. It also has a Florham campus that competes in Division III. With over 12,000 students total, it is the largest private school in New Jersey.
The Fairleigh Dickinson bobblehead follows previously released bobbleheads commemorating the underdog Saint Peter's Peacocks and UMBC Retrievers, who shocked the college basketball world in a similar fashion in 2022 and 2018, respectively. Saint Peter's, a private Jesuit University located in Jersey City New Jersey, was a No. 15 seed and recorded victories over Kentucky, Murray State and Purdue to advance to the Elite Eight where its incredible run came to an end against North Carolina. In 2018, UMBC became the first-ever No. 16 seed to knock off a No. 1 seed when it overwhelmed Virginia, 74-54.
The shortest of the 363 NCAA Division I teams in the country, Fairleigh Dickinson stunned top-seeded Purdue and 7-foot-4 All-American center Zach Edey, 63-58, for a St. Patrick's Day surprise. Before FDU's shocker, No. 16 seeds had a record of 1-150 against No. 1 seeds in tourney history. "If we played them 100 times, they'd probably beat us 99 times," FDU coach Tobin Anderson said. Making their seventh trip to March Madness, and their sixth as a No. 16 seed, the Knights, who went 4-22 last season, knocked off Texas Southern, 84-61, in a First Four matchup to advance to play Purdue. After the win, Anderson made a prophetic statement, telling his team, "The more I see Purdue, the more I think we can beat them."
"We are excited to unveil the first Fairleigh Dickinson bobblehead following FDU's incredible upset victory that captivated fans everywhere," National Bobblehead Hall of Fame and Museum co-founder and CEO Phil Sklar said. "This victory will be talked about for a long time, and now fans, students, alumni, faculty, and staff will have a bobblehead to commemorate the historic accomplishment!"
About the National Bobblehead Hall of Fame and Museum:
The National Bobblehead Hall of Fame and Museum, which is located at 170 S. 1st St. in Milwaukee, Wisconsin, opened to the public on February 1st, 2019. The HOF and Museum also produces high quality, customized bobbleheads for retail sale as well as organizations, individuals, and teams across the country. Visit us online and on Facebook, Twitter and Instagram.
Categories:
Uncategorised