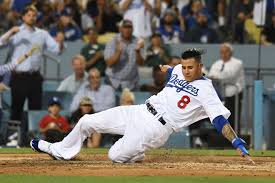 Whether or not Manny Machado remains a long-term fixture in the Dodgers clubhouse remains to be seen. Nevertheless, the club officially announced a special promotion for late-September that ensures a Machado collectible can be yours forever. It's a must-have for any Dodgers fan that wants to catch a piece of 'Mannywood 2.0'.
Manny Machado bobblehead night has been announced for September 22nd at Dodger Stadium against the San Diego Padres.
The game is slated for a 6:10 PM first pitch. By then, hopefully Machado has around 12 to 15 home runs as a Dodger and they're playing out a meaningless string of games in preparation for the postseason.
Even if Machado leaves the team following the 2018 season, this is an item that captures a poignant era of Dodgers baseball. It's something that any Dodgers fan should be happy to have on their shelf to remember the time when the Dodgers acquired the most valuable player ever in-season in terms of WAR value.
Still, there are fans who are investing heavily into Machado's long term future with the Dodgers. Per our Dodgers Nation Media twitter account, some fans were spotted at Machado's first Dodger Stadium game in full gear. They have no fears about Machado's long-term future with the club.