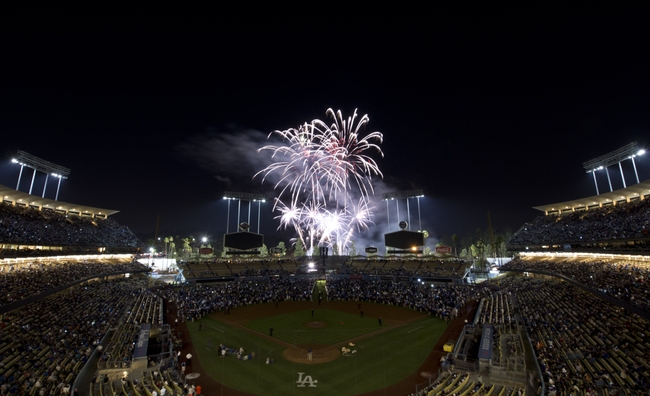 The Dodgers announced their 54 game promotional/event schedule for the 2018 season, so be sure to mark your calendars!
There will be 6 collector's items, as well as 10 bobbleheads given away throughout the season. The schedule also includes a few new items, such as an ITFDB alarm clock. On top of this, the Dodgers will be giving away holiday themed items, such as a cosmetic bag for Mother's Day and a cooler bag for Labor day. There will also be 6 kids giveaways, which will all be on Sundays.
The first promotion will be held on March 29th, Opening Day, where they will be giving away a magnet schedule. The fan favorite Friday Night Fireworks will also be returning for the 2018 season, as well as holiday fireworks on July 3rd and 4th. One of the most popular promotions, the bobbleheads, will be given away on:
Saturday April 21st
Tuesday May 22nd
Wednesday May 30th
Saturday June 9th
Tuesday June 26th
Saturday July 14th
Tuesday July 31st
Tuesday August 14th
Wednesday August 22nd
Tuesday September 18th
Some other notable promotions include a Dodgers hooded sweatshirt on April 11th, a Jackie Robinson jersey on April 15th, a 60th anniversary hat on May 12th, a player T-shirt on May 26th, a Dodgers beach towel on June 13th, a knit cap on August 20th, a Dodger stadium sand globe on August 30th, and fan appreciation day on September 23rd.
The Dodgers will also be offering 5 mini-plan options for 2018 including a 10-game Value Plan, a 20-game Flex Plan, a 21-game Collector's Plan, a 30-game Flex Plan, and a 37-game Flex Plan. Check out more details about each plan below, courtesy of Dodgers Insider!
The 10-game flex plan will be limited, as fans will only be able to pick from 30 pre-selected games.
The 20-game flex plan will allow fans to pick from any game other than Opening Day.
The 21-game Collector's Plan will include all of the bobblehead and collectors items, as well as Opening Day.
The 30-game flex plan has no restrictions on what games can be picked, including Opening Day.
The 37-game flex plan has no restrictions on what games can be selected, and it includes possible rights to purchase tickets to one World Series game.