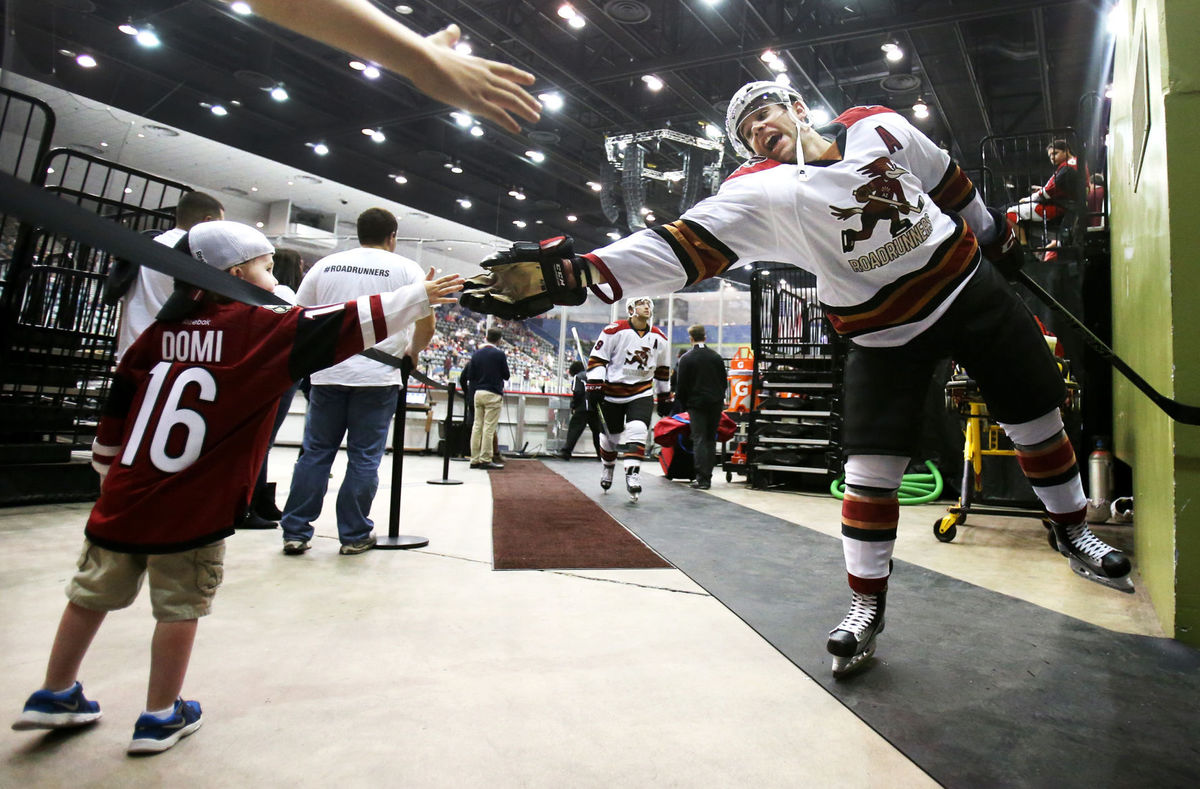 The Tucson Roadrunners will honor Craig Cunningham on Friday night when they retire his jersey and hand out bobbleheads of the former team captain.
It's not your typical pregame honor.
Cunningham collapsed on the ice before a November 2016 game, the result of a cardiac rhythm disturbance. He spent most of the next two months in the hospital, and the resulting complications led to an amputated leg and a forced retirement from hockey.
Cunningham, now a scout with the NHL's Coyotes, will attend Friday's game with his mother and brother. He'll also drop the puck.
Roadrunners officials say the idea of a Craig Cunningham Night had long been in the works — just not this soon and under these circumstances. Cunningham was the (very) public face of Tucson's first team, an accessible standout off to one of the best starts of his career. He had played just 11 games with the Roadrunners when he collapsed.
"Because of his leadership abilities, the way he took to the community, and just being the leader he was on and off the ice, we knew he would be the first number to go up in the rafters," said Mark Iralson, the club's director of marketing. "We thought, 'if this is going to be our first bobblehead let's do one for the day he came back and dropped the puck."
The Roadrunners will give out Cunningham bobbleheads to the first 1,500 fans. Fittingly, the bobblehead will display Cunningham dropping the puck.
Cunningham is also the subject of a new TSN documentary "All Heart." The original program was largely filmed in Tucson this past March and April as Cunningham rehabbed back into shape.
The Roadrunners, like last year, are off to a strong start to the season. Tucson enters the weekend with a 3-1-1-0 record after a successful four-game road trip. Friday marks the first of six straight home games.
Tucson's offense is consistently finding the back of the net behind coach Mike Van Ryn. Fourteen different players have scored goals this season, and none have scored more than newcomer Mike Sislo's three.
Dylan Strome, the third overall pick in the 2015 NHL draft, scored a goal and had two assists Wednesday as Tucson beat Grand Rapids 3-1.
The Roadrunners will showcase another former top draft pick this weekend, as the Coyotes assigned forward Lawson Crouse to Tucson on Wednesday. Crouse was the 11th overall pick of the 2015 draft.
But whatever happens on the ice Friday night will likely be overshadowed by Cunningham's freshly retired jersey hanging in the rafters.