Colorado Buffaloes Chip the Buffalo T-Shirt Cannon Bobblehead Unveiled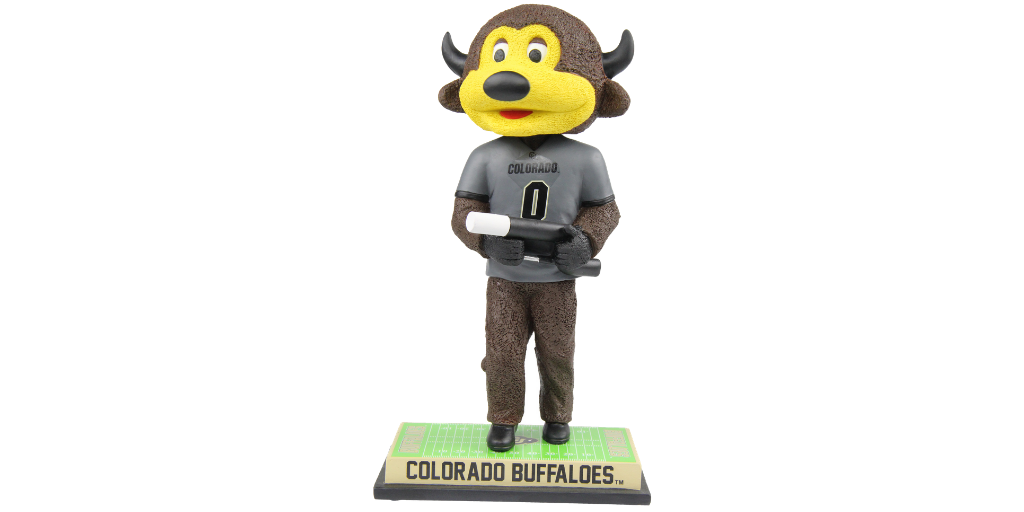 Limited Edition bobblehead featuring Chip the Buffalo with his t-shirt cannon is now available for pre-order exclusively from the National Bobblehead HOF and Museum.
MILWAUKEE, Wi., May 8, 2019 – This morning, the National Bobblehead Hall of Fame and Museum unveiled an officially licensed, limited-edition bobblehead featuring University of Colorado's mascot, Chip the Buffalo, with his t-shirt cannon. The bobblehead features Colorado Buffaloes mascot, Chip, wielding a t-shirt cannon, which is one of his favorite on-field tools used to fire t-shirts to the crowd and get everyone pumped for the game.
The limited edition bobbleheads, which are individually numbered to only 1,000, are in stock and ship now. The bobbleheads are now available for order exclusively at the Hall of Fame and Museum's Online Store or at the Museum, which is located at 170 S. 1st St. in Milwaukee's Walker's Point neighborhood. The bobbleheads are $40 each with a flat rate shipping charge of $8 per order and were produced exclusively for the National Bobblehead Hall of Fame and Museum by FOCO.
Chip is Colorado's costumed mascot and one of the best in the nation. Chip can be seen at numerous Colorado, community and charity events throughout the year. He has multiple top five finishes at the Mascot National Championship, including winning back-to-back championships in 2009 and 2010.
The Buffaloes football team has participated in 28 bowl games, won 27 conference championships, five division championships, and one national championship. This bobblehead is the perfect way for any Buffaloes fan to show their team pride.
About the National Bobblehead Hall of Fame and Museum:
The National Bobblehead Hall of Fame and Museum, which is located at 170 S. 1st St. in Milwaukee, Wisconsin, opened to the public on February 1st, 2019. The HOF and Museum also produces high quality, customized bobbleheads for retail sales, organizations, individuals and teams across the country. Follow the Hall of Fame and Museum online and on Facebook, Twitter and Instagram.
About FOCO:
FOCO is a leading manufacturer of sports and entertainment merchandise celebrating more than 17 years in the industry. The company's always-growing product lines includes apparel, accessories, toys, collectibles, novelty items, and more. FOCO is licensed with all major sports leagues including the NFL, MLB, NBA, NHL, NASCAR, MLS and over 100 colleges and universities as well as entertainment properties such as Disney, Warner Bros/DC Comics, Nickelodeon, and WWE. Please reach out to Matthew Katz, Licensing Manager, P 848-260-4315 - mkatz@foco.com for more information. Follow @FOCOusa on Facebook, Twitter, and Instagram for more exciting news and new product releases.