Chuck Swirsky Chicago Broadcaster Bobblehead Unveiled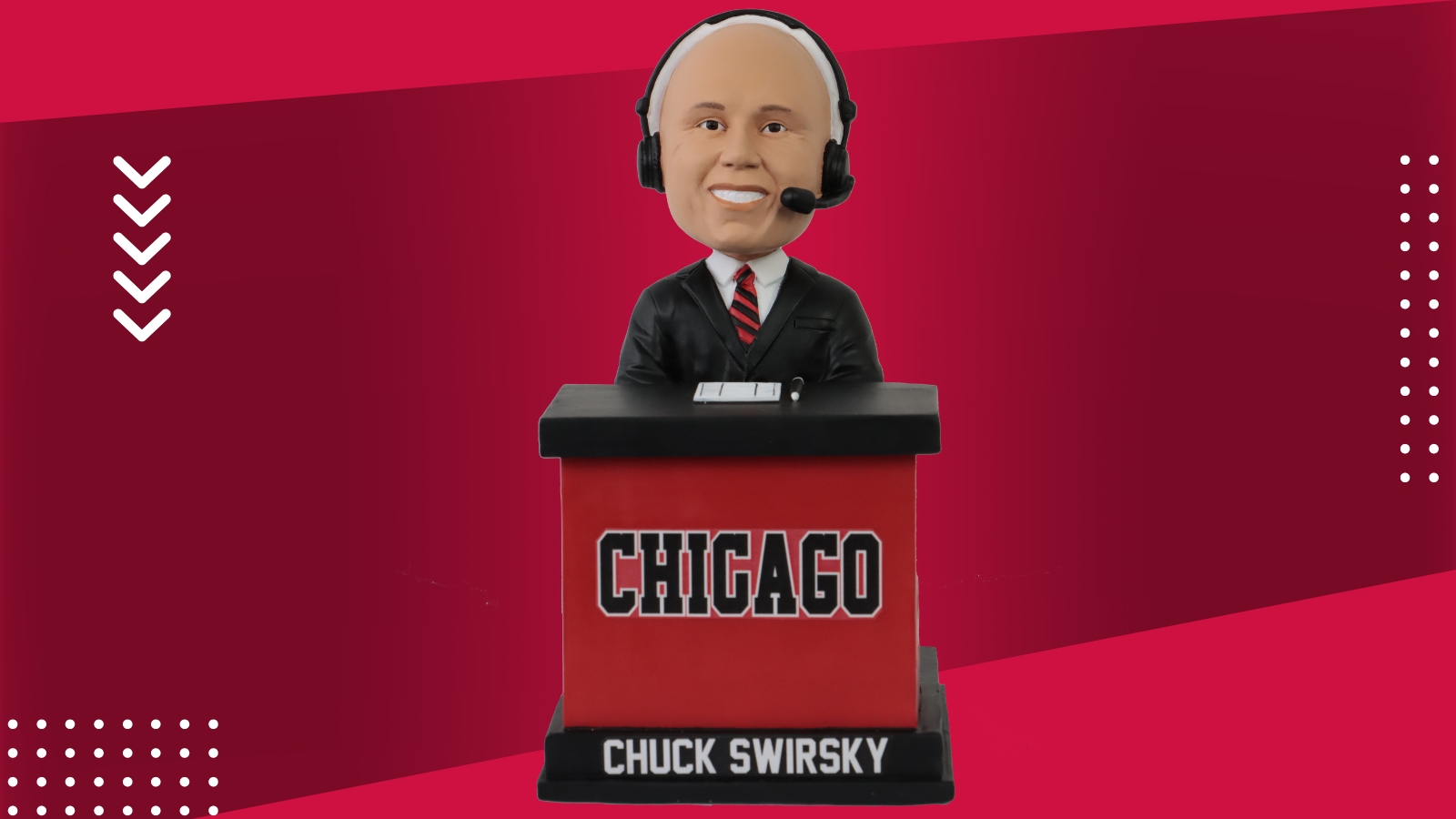 MILWAUKEE – This morning, the National Bobblehead Hall of Fame and Museum unveiled a Chuck Swirsky bobblehead. The limited-edition talking bobblehead features the play-by-play voice of the Chicago Bulls who recently completed his 25th season as an NBA broadcaster. The special edition bobblehead is being produced by the National Bobblehead Hall of Fame and Museum in conjunction with Chuck Swirsky and AUTOGRAPH1.
Wearing a headset and dressed in a black sport coat with a red and black striped tie, the smiling Swirsky bobblehead is sitting at a courtside table bearing his name at the bottom of the base with CHICAGO across the front. With Swirsky being known for his enthusiastic catchphrases, the bobblehead will play the following clips at the touch of a button:
To the rack! Count it! And a foul!
Bam!
Onions! Baby onions!
Oh, baby! What a play!
Put him in the Hall! Put him in the Hall of Fame!
A corner snow cone three … Yes! Right down the pipe!
He rocked the rim with a two-handed power jam!
Each bobblehead will be individually numbered to 2,023 and they are only available through the National Bobblehead Hall of Fame and Museum's Online Store. The bobbleheads, which are expected to ship in August 2023, are $30 each plus a flat-rate shipping charge of $8 per order.
Hired in May of 2008, Swirsky recently completed his 15th season handling the radio play-by-play duties on 670 The Score while sitting alongside color commentator and former NBA Champion Bill Wennington on the Bulls Radio Network. He called his 2,000th NBA game during the 2022-23 season. In addition to his in-game duties, Swirsky contributes regularly to Bulls.com. Swirsky spent ten years in Toronto Raptors games. On March 23, 2007, Swirsky was honored by the Raptors when they gave out 18,000 bobbleheads with his likeness.
Born in Norfolk, Virginia, and raised in Bellevue, Washington, Swirsky started his broadcasting career in Chicago in 1979 at WCFL (AM 1000), hosting the city's first nightly sports talk show. In 1980, Swirsky was named the public address announcer for the Bulls, serving until 1983. He later rose to prominence while serving as the sports director for WGN-AM in Chicago from 1982 to 1994. In addition to hosting various sports talk shows, Swirsky also did play-by-play for DePaul University men's basketball games and was the host of the Chicago Bears Radio Network for 10 years and held similar responsibilities for the Chicago Cubs Radio Network for 12 seasons. "Chuck is on the Mount Rushmore of Chicago sports talk radio," said David Marran, better known at SoxNerd on Twitter. Swirsky's broadcasting career also included stints with University of Michigan men's basketball and WJR-AM in Detroit where he anchored the pregame and postgame shows for the Detroit Red Wings and University of Michigan football.
On September 7, 2016, Swirsky was inducted into the Chicagoland Sports Hall of Fame. In May 2018, he was inducted into the Illinois Basketball Coaches Hall of Fame and the WGN Radio Walk of Fame. A three-time winner of the Best Sportscast Award for the state of Michigan, Swirsky was also awarded Best Play-by-Play announcer by The Associated Press in 1996. At the start of the 2022-23 NBA season, Swirsky announced the release of his memoir, "Always a Pleasure."
When asked about being honored with the new bobblehead, Chuck said, "With a heart of gratitude and humility I'm honored to be included in the National Bobblehead Hall of Fame and Museum. The passion I have in my heart for what sports has meant to me, first as a young boy in Seattle, then culminating with a career as an NBA play-by-play announcer, is a dream come true. Thank you to members of the National Bobblehead Hall of Fame & AUTOGRAPH1 for making this possible."
AUTOGRAPH1 Co-Founders Mitch Dubinsky and Steve Gassman approached their newest client Chuck Swirsky as well as the National Bobblehead Hall of Fame and Museum with the concept to create a bobblehead for another broadcasting icon. AUTOGRAPH1 commented, "We are extremely proud to work with such a broadcasting legend as Chuck Swirsky."
"We are honored to release this bobblehead of Chicago radio legend Chuck Swirsky in celebration of his illustrious broadcasting career," National Bobblehead Hall of Fame and Museum co-founder and CEO Phil Sklar said. "With his popular catchphrases, positivity and unbridled enthusiasm, Chuck has been a fan favorite for decades and we think fans will enjoy this new bobblehead."
About the National Bobblehead Hall of Fame and Museum:
The National Bobblehead Hall of Fame and Museum, which is located at 170 S. 1st St. in Milwaukee, Wisconsin, opened to the public on February 1st, 2019. The HOF and Museum also produces high quality, customized bobbleheads for retail sale as well as organizations, individuals, and teams across the country. Visit us online and on Facebook, Twitter and Instagram.
About AUTOGRAPH1:
AUTOGRAPH1, with a combined 50+ years' experience, brings pro athletes and current celebrities to you. We currently book our clients for public appearances, private signings, meet & greets and corporate events. Visit us online and on Twitter and Instagram. Contact us at autgrf1@gmail.com.
Categories:
Uncategorised