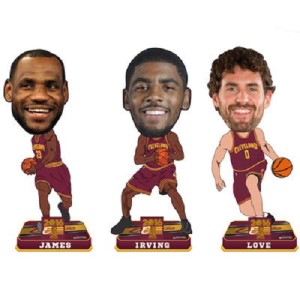 From Cleveland.com: CLEVELAND, Ohio – The National Bobblehead Hall of Fame and Museum in Milwaukee is making a series of Cleveland Cavaliers 2016 NBA Championship bobbleheads available for presale.
A dozen limited-edition bobbleheads, which start at $30 each, are expected to arrive in November. Most are 8 inches tall. In each one, the players are holding a replica of the Larry O'Brien NBA Championship Trophy.
The depictions will show dark jerseys – like the ones worn in Cleveland's clinching Game 7 victory at Oakland. But Phil Sklar of the museum said they might be available in red as well. They will be numbered to 2,016 for each player, though some – like James – might have a higher production, he said.
The Cavs bobbleheads:
• LeBron James (Regular and MVP)
• Kyrie Irving
• Kevin Love
• Matthew Dellavedova
• Iman Shumpert
• Tristan Thompson
• JR Smith
• Moondog (Mascot)
• Mini Set of 3 (James, Irving and Love) are about 3.5 inches each.
In addition, the museum is selling a 3-foot tall James bobblehead for $850.
Sklar said the museum starts working on lining up art for bobbleheads as soon as the final two teams are set.
"We also had the Warriors art ready," Sklar said. "It's sort of exciting that it's the first time Cleveland won it. It's a whole new fan base."
Sunday, the Cavs beat the Warriors, 93-89, to win Cleveland's first major professional sports championship since the Cleveland Browns won in 1964.
Last year's sold "really well," he said of the Warriors' 2015 title, in particular Steph Curry, Draymond Green and Andre Iguodala bobbleheads. Some were going for as high as "$100-plus" on eBay and Amazon sites, Sklar said.
"The role players become harder to find because fewer of those are made, like (Andrew) Bogut."
More are in the works, Sklar said: "We're working on a few other bobbleheads based on the series and last night's game."
In February, the museum finished a kickstarter campaign, which allowed people to vote for a presidential candidate.