Watt Brothers NFL Edition Triple Bobblehead Unveiled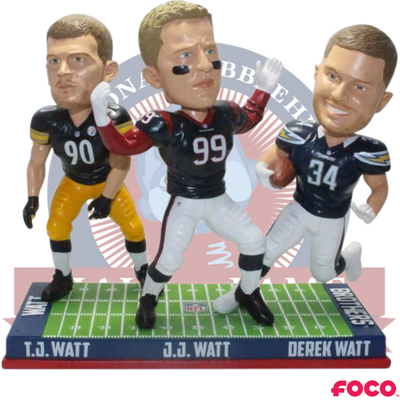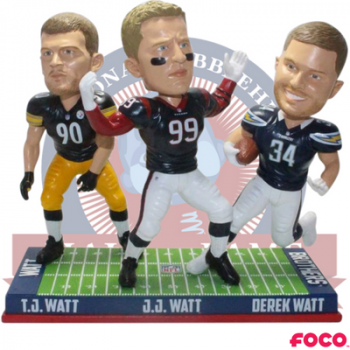 Limited Edition triple bobblehead featuring brothers J.J., Derek and T.J. Watt in their NFL uniforms is now available for pre-order exclusively from the National Bobblehead HOF and Museum.
MILWAUKEE, Wi., February 23, 2018 – This morning, the National Bobblehead Hall of Fame and Museum unveiled a limited-edition Watt Brothers bobblehead featuring J.J., Derek and T.J. Watt in NFL uniforms. The bobblehead features J.J. in his Houston Texans uniform, T.J. in his Pittsburgh Steelers uniform and Derek in his Los Angeles Chargers uniform.
The limited edition bobbleheads, which are individually numbered to only 1,000, are expected to ship in May. The bobbleheads are $75 each with a flat rate shipping charge of $8 per order.
The Watt brothers all grew up in Wisconsin and attended Pewaukee High School. All three of the brothers went on to play football at the University of Wisconsin, before being NFL draft picks. In 2017, the National Bobblehead HOF and Museum released a bobblehead featuring the three brothers in their Wisconsin Badgers uniforms. That bobblehead, which was individually numbered to 360, sold out.
J.J. Watt is a defensive end for the Houston Texans and was selected with the 11th overall pick of the 2011 NFL Draft. J.J. played two years at Wisconsin (2009 and 2010) after attending Central Michigan University for his freshman year. In the NFL, J.J. has accumulated many honors including four-time Pro Bowl selection and four-time First-Team All Pro selection. He holds Houston Texans records for career sacks, forced fumbles and recovered fumbles, and is a fan favorite.
Derek Watt is a fullback for the Los Angeles Chargers and was selected in the sixth round of the 2016 NFL Draft. Derek played for the University of Wisconsin from 2011 to 2015 and was part of the offense that helped Melvin Gordon amass record-breaking rushing yards during his Badger career.
T.J. Watt is an outside linebacker for the Pittsburgh Steelers and was selected with the 30th overall pick of the 2017 NFL Draft. Watt was recruited as a tight end for Wisconsin, but he was asked to switch to a defensive position as a redshirt sophomore after recovering from an injury. During the 2016 season, Watt recorded 59 total tackles and 11.5 sacks. T.J. was named the Pittsburgh Steelers' starting right outside linebacker to begin the 2017 regular season and recorded seven tackles, two sacks, and one interception in his first NFL game.
"The bobblehead featuring the brothers in their Wisconsin jerseys was extremely popular, and there were a lot of requests to produce an NFL version," said Phil Sklar, Co-Founder and CEO of the National Bobblehead Hall of Fame and Museum. "The Watt brothers have accomplished so much both on and off the field, and this bobblehead is the perfect way for fans to celebrate the rare accomplishment of all three brothers playing in the NFL."
The bobbleheads were produced exclusively for the National Bobblehead HOF and Museum by FOCO and are officially licensed.
About the National Bobblehead Hall of Fame and Museum:
The National Bobblehead Hall of Fame and Museum was announced in November 2014. The HOF and Museum hosted a Preview Exhibit in 2016, and is currently planning for a permanent location, which is expected to open in April 2018. The HOF and Museum also produces high quality, customized bobbleheads for organizations, individuals and teams across the country. Visit us at www.BobbleheadHall.com, www.facebook.com/BobbleheadHall or www.twitter.com/BobbleheadHall.