Miami Hurricanes Turnover Chain Bobblehead Unveiled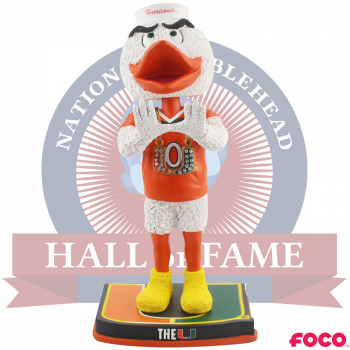 Limited Edition bobblehead featuring Sebastian the Ibis wearing the Turnover Chain is now available from the National Bobblehead HOF and Museum.
MILWAUKEE, Wi., May 11, 2018 – This morning, the National Bobblehead Hall of Fame and Museum unveiled a limited-edition bobblehead featuring the Miami's Sebastian the Ibis wearing the Turnover Chain. The Turnover Chain was bestowed upon Hurricanes players who forced a turnover. The chain, became a national sensation as Miami's players consistently earned the chain and celebrated the turnovers that they forced throughout the 2017 season.
The individually numbered bobbleheads, which were produced by FOCO, just arrived and ship now. The bobbleheads are $40 each with a flat rate shipping charge of $8 per order.
When the Turnover Chain went viral during Miami's first game, the chain's origin was quickly discovered. Roughly two weeks prior to the 2017 season, Miami's cornerbacks coach, Mike Rumph, called well-known jewelry designer Anthony John Machado, known as AJ, from AJ's Jewelry. Miami's defensive coordinator, Manny Diaz, was looking for something to reward players for forcing turnovers. Fellow Hurricane, Vince Wilfork, who was in AJ's office at the time of the call, suggested the Cuban link chain. Within 10 days, the Turnover Chain, with the U logo consisting of 900 orange and green sapphire stones attached to a 36-inch, 2.5-kilogram, 10-karat gold chain, was born.
"The Turnover Chain was one of the best stories in college football this past season, and it truly inspired a lot of players and energized Miami's fan base," said Phil Sklar, Co-Founder and CEO of the National Bobblehead Hall of Fame and Museum. "A bobblehead of Sebastian wearing the Turnover Chain is the perfect way for Miami fans across the country to celebrate their passion for Miami Football."
About the National Bobblehead Hall of Fame and Museum:
The National Bobblehead Hall of Fame and Museum was announced in November 2014. The HOF and Museum hosted a Preview Exhibit in 2016, and is currently planning for a permanent location, which is expected to open in spring 2018. The HOF and Museum also produces high quality, customized bobbleheads for organizations, individuals and teams across the country. Visit us at www.BobbleheadHall.com, www.facebook.com/BobbleheadHall or www.twitter.com/BobbleheadHall.
About FOCO:
Previously known as Team Beans, LLC and Forever Collectibles, FOCO is a leading manufacturer of sports and entertainment merchandise celebrating more than 17 years in the industry. The company's ever-growing product lines include apparel, accessories, toys, collectibles, novelties, footwear, holiday and more. FOCO is licensed with all major sports leagues including the NFL, MLB, NBA, NHL, NASCAR, MLS and over 100 colleges and universities as well as entertainment properties such as Disney, Warner Bros/DC Comics, Nickelodeon and Sanrio. Please reach out to Matthew Katz, Licensing Manager, mkatz@foco.com for more information.