Sister Jean Loyola Chicago Ornament and Dashboard Bobbleheads Unveiled to Celebrate 103rd Birthday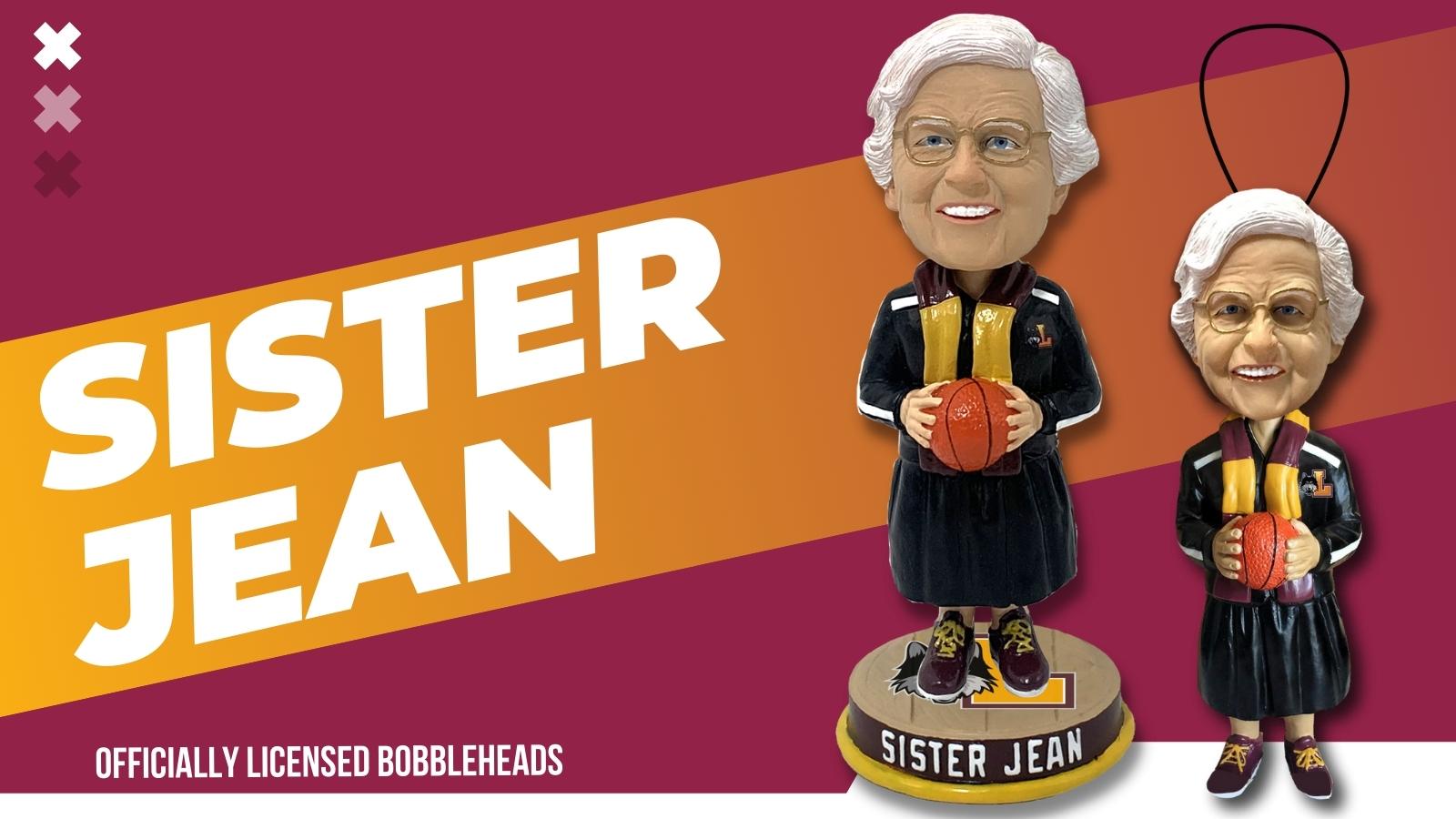 MILWAUKEE – This morning, the National Bobblehead Hall of Fame and Museum unveiled officially licensed, limited-edition Sister Jean Ornament and Dashboard Mini Bobbleheads featuring Loyola University Chicago's Sister Jean Dolores Schmidt. The bobbleheads are being released in celebration of Sister Jean's 103rd birthday, which is this Sunday, August 21st. The bobbleheads, which are being produced by the National Bobblehead Hall of Fame and Museum, are officially licensed by Loyola University Chicago and are being produced in conjunction with the Loyola University Athletic Department.

The longtime basketball team chaplain has had several popular bobbleheads. In 2018, Sister Jean was thrust into the national spotlight when the Ramblers advanced to the Final Four of the NCAA Tournament. The 2018 bobblehead, which has sold out, was the National Bobblehead Hall of Fame and Museum's best-selling bobblehead of all time until it was surpassed in April 2020 by a bobblehead of Dr. Anthony Fauci. Sister Jean's second bobblehead was produced in 2021 when the Ramblers returned to the NCAA Tournament for the first time since their Final Four run three year earlier. A limited number of those bobbleheads are available for purchase.
The latest bobbleheads feature a smiling Sister Jean holding a basketball while wearing a Loyola Ramblers jacket with a logo along with a maroon and gold scarf and maroon shoes with gold laces. She is standing on a circular base bearing the Loyola University Chicago logo along with her name. Each bobblehead measures four inches tall with the ornament bobblehead having a string for hanging and the dashboard mini bobblehead having an adhesive strip on the bottom of the base.
The bobbleheads are available through the National Bobblehead Hall of Fame and Museum's Online Store. The bobbleheads, which are expected to ship in November, are $20 each plus a flat-rate shipping charge of $8 per order. A portion of the proceeds from the sale of each bobblehead benefit the Loyola Athletic Fund and the Sisters of Charity of the Blessed Virgin Mary. The bobbleheads will also be available at Loyola Chicago's University Bookstore when they arrive.
In 2018, Sister Jean and the Loyola Ramblers were thrust into the national spotlight after putting together an improbable run in the NCAA Tournament. In a Cinderella performance, the 11th-seeded Ramblers knocked off Miami (Fla.), 64-62, and Tennessee, 63-62, to advance to the Sweet 16. They then toppled Nevada, 69-68, and Kansas State, 78-62, to move on to the Final Four. In the national semifinals, Loyola's magical run finally ended with a 69-57 loss to Michigan. Sister Jean became an instant celebrity after Loyola's first-round victory over Miami. Her fame continued to grow with each upset victory and the then-98-year-old nun became the star of the tournament as the Ramblers reached the Final Four for the first time since 1963.
In 2021, Loyola punched its tickets to the NCAA Tournament with a 75-65 victory over Drake in the championship game of the Missouri Valley Conference tourney in St. Louis. After his team's victory, then-Loyola coach Porter Moser said that Sister Jean had been calling the team with pregame prayers. Unable to travel to the games because of COVID-19 restrictions, she admitted it was difficult to be apart from the Ramblers during the regular season. However, she was able to travel with the team to the NCAA Tournament, witnessing the 8th-seeded Ramblers knock off top-seeded Illinois to advance to the Sweet Sixteen.
"Sister's Jean's bobblehead popularity continues to this day and we are thrilled to announce these two new products in honor of her 103rd birthday," National Bobblehead Hall of Fame and Museum co-founder and CEO Phil Sklar said. "We are thrilled to be working with the University so that more fans across the country can have a Sister Jean bobblehead. Everyone needs some of Sister Jean's positive attitude and great spirit in their life, and this bobblehead will be a great way to have that!"
About the National Bobblehead Hall of Fame and Museum:
The National Bobblehead Hall of Fame and Museum, which is located at 170 S. 1st St. in Milwaukee, Wisconsin, opened to the public on February 1st, 2019. The HOF and Museum also produces high quality, customized bobbleheads for retail sale as well as organizations, individuals, and teams across the country. Visit us online and on Facebook, Twitter and Instagram.
About Loyola University Chicago:
Founded in 1870, Loyola University Chicago is one of the nation's largest Jesuit, Catholic universities, with more than 16,600 students. Nearly 11,500 undergraduates call Loyola home. The University has four campuses: three in the greater Chicago area and one in Rome, Italy, as well as course locations in Saigon-Ho Chi Minh City, Vietnam; Vernon Hills, Illinois (Cuneo Mansion and Gardens); and a Retreat and Ecology Campus in Woodstock, Illinois. The University features 13 schools, colleges, and institutes, including the Quinlan School of Business, Marcella Niehoff School of Nursing, Stritch School of Medicine, College of Arts and Sciences, School of Communication, School of Continuing and Professional Studies, School of Education, School of Law, School of Social Work, Graduate School, Institute of Pastoral Studies, Institute of Environmental Sustainability, and Arrupe College of Loyola University Chicago. Ranked a top national university by U.S. News & World Report, Loyola is also among a select group of universities recognized for community service and engagement by prestigious national organizations like the Carnegie Foundation and the Corporation for National and Community Service. To learn more about Loyola, visit LUC.edu, "like" us at Facebook.com/LoyolaChicago, or follow us on Twitter via @LoyolaChicago or @LoyolaNewsroom.
Categories:
Uncategorised