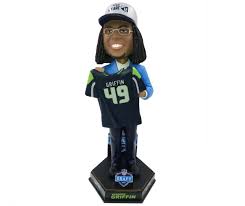 Shaquem Griffin becomes a bobblehead, makes a child's birthday extra special By Joe Mario Pedersen
Even on his bye week, Seattle Seahawks linebacker Shaquem Griffin can still turn — and bobble — heads.
First, the National Bobblehead Hall of Fame Museum revealed that Griffin would be its latest bobble figure to graceits shelves, the organization announced Friday in a press release.
"When I first saw a story about Shaquem a few years ago, I started to follow his progress and knew that we would make a bobblehead of him as soon as we could as his story is one of the most inspirational that I've ever seen," said Phil Sklar, Co-Founder and CEO of the National Bobblehead Hall of Fame and Museum in the release. "This bobblehead should serve a reminder of Shaquem's perseverance and be a source of inspiration."
The second story came in the form of a tweet.
A young, one-handed football player was reduced to tears after receiving Griffin's No. 49 jersey as a birthday gift, according to a tweet by the boy's mother, Wendi Eden. The tweet of the child's emotional experience received over 41,000 likes and was retweeted nearly 9,000 times on the NFL's twitter account — but most importantly it gained the attention of Griffin himself.
Griffin thanked the boy for his admiration and invited him to a future Seahawks game.
Griffin was drafted bythe Seahawks earlier this year after starring forthe University of Central Florida during the Knights'perfect 2017season. Griffin's journey to the NFL and overcoming obstacles, such as his diagnosis of amniotic band syndrome, which left him as an amputee, has generateda massive fan base.