First Shaquem Griffin Bobblehead Unveiled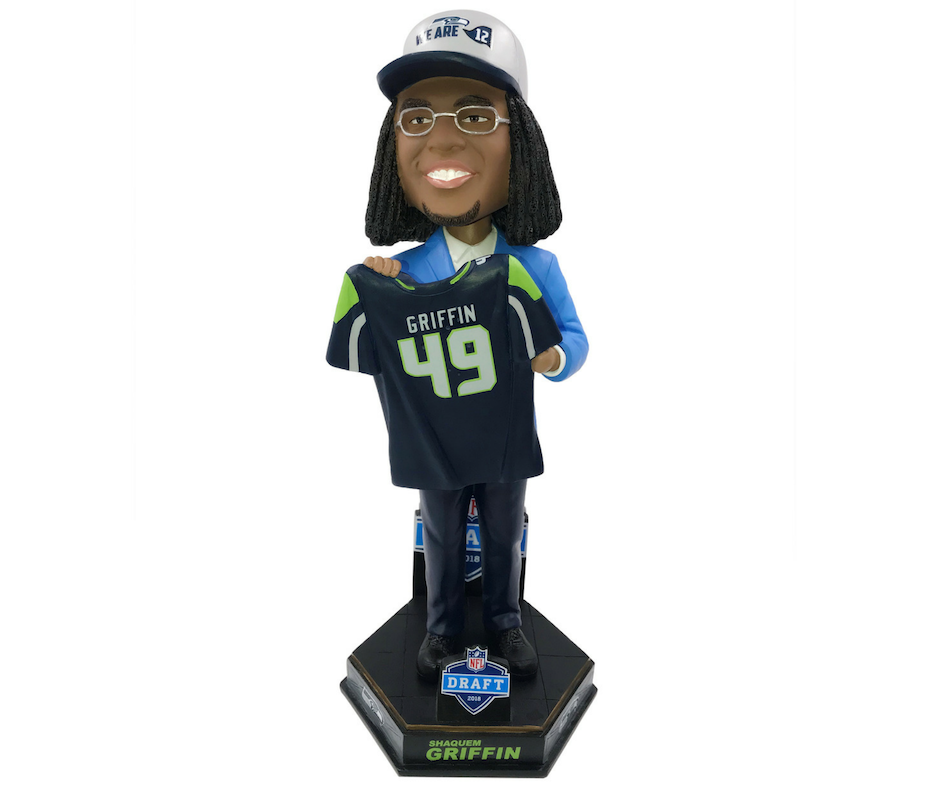 Limited Edition bobblehead commemorating Shaquem's selection in the 2018 NFL Draft by the Seattle Seahawks now available.
MILWAUKEE, Wi., October 19, 2018 – This morning, the National Bobblehead Hall of Fame and Museum unveiled a limited-edition bobblehead commemorating Shaquem Griffin's selection by the Seattle Seahawks in the 2018 NFL Draft. The bobblehead features Griffin in his draft day suit holding up his Seahawk's jersey and is part of an annual series featuring the NFL's top draft picks. This marks the first bobblehead for Griffin, who was selected with the 141st pick of the 2018 NFL Draft.
The limited edition bobbleheads, which are individually numbered to 2,018, just arrived and ship now. The over-sized 10" bobbleheads are $40 each with a flat rate shipping charge of $8 per order and were produced for the National Bobblehead Hall of Fame and Museum by FOCO.
Shaquem Griffin was born to Tangie and Terry Griffin on July 20, 1995, less than two minutes after his twin brother Shaquill. Shaquem was born with amniotic band syndrome affecting his left hand, causing his fingers on his left hand not to fully develop. At age four, his mother found him in the kitchen, attempting to use a butcher's knife to amputate his own hand because of the pain, resulting in his parents scheduling an amputation the next day. However, Griffin was able to continue playing sports without his left hand, competing in track, baseball, and football alongside his twin brother. The brothers were both offered football scholarships at UCF, and Shaquill rejected offers from other teams including the Miami Hurricanes, his dream team, to play with Shaquem. Shaquill graduated and was drafted by the Seattle Seahawks in the third round (90th overall pick) of the 2017 NFL Draft, while Shaquem stayed on for his redshirt senior year at UCF.
Griffin became a star for the University of Central Florida Knights, rising into one of the best pass rushers in the country after switching from defensive back to linebacker after his second season. Griffin led the American Conference with 11.5 sacks as a junior, earning 2016 American Athletic Conference Player of the Year. In 2017, Griffin helped lead the Knights to an undefeated 13-0 season and a 34-27 Peach Bowl victory over the Auburn Tigers, leading the Knights to declare the team National Champions.
Despite not being projected as a first round pick, Griffin received an invitation to the 2018 NFL Draft. Griffin received extensive press and social media coverage leading up to and during the draft, as he would have been the first one-handed player drafted into the NFL if chosen. On April 28, 2018, he was selected by the Seattle Seahawks, reuniting him with his brother Shaquill. On August 9, 2018 Griffin made his preseason debut against the Indianapolis Colts in CenturyLink Field, leading his team in tackles with six solo tackles and three assisted tackles. On September 9, 2018, Griffin was named as a starter and recorded three solo tackles in the first game of his NFL career as veteran linebacker K.J. Wright was unable to play.
"When I first saw a story about Shaquem a few years ago, I started to follow his progress and knew that we would make a bobblehead of him as soon as we could as his story is one of the most inspirational that I've ever seen," said Phil Sklar, Co-Founder and CEO of the National Bobblehead Hall of Fame and Museum. "This bobblehead should serve a reminder of Shaquem's perseverance and be a source of inspiration for all fans. Bobbleheads are the ultimate honor for athletes, and we are thrilled to be honoring Shaquem with his first bobblehead."
About the National Bobblehead Hall of Fame and Museum:
The National Bobblehead Hall of Fame and Museum is finishing set-up of its permanent location, which is expected to open this Fall. The HOF and Museum was announced in November 2014 and hosted a Preview Exhibit in 2016. The HOF and Museum also produces high quality, customized bobbleheads for organizations, individuals and teams across the country. Visit us at www.BobbleheadHall.com, www.facebook.com/BobbleheadHall or www.twitter.com/BobbleheadHall.
About FOCO:
Previously known as Team Beans, LLC and Forever Collectibles, FOCO is a leading manufacturer of sports and entertainment merchandise celebrating more than 17 years in the industry. The company's ever-growing product lines include apparel, accessories, toys, collectibles, novelties, footwear, holiday and more. FOCO is licensed with all major sports leagues including the NFL, MLB, NBA, NHL, NASCAR, MLS and over 100 colleges and universities as well as entertainment properties such as Disney, Warner Bros/DC Comics, Nickelodeon and Sanrio. Please reach out to Matthew Katz, Licensing Manager, mkatz@foco.com for more information.