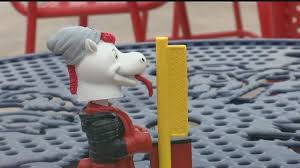 BINGHAMTON (WBNG) — The Binghamton Rumble Ponies gave away 1,000 free Rowdy the Rumble Pony bobbleheads to fans at Saturday's game. Now, people are selling those bobbleheads online.
The bobblehead depicts Rowdy as a character from a classic Christmas movie, A Christmas Story. Rowdy is licking a foul pole, like one of the characters from the movie.
This bobblehead was designed to celebrate Christmas in July.
People are selling this bobble head for as much as $75 on sites like eBay.
Rumble Ponies staff members said they aren't surprised people are selling the giveaway online.
"I think as an organization, we always want people that are coming through the gates, you know it's our goal to get, to give them something to thank them for coming out and everything. It is hard sometimes to see that. You see people taking that and putting them on eBay," Eddie Saunders, Rumble Ponies' Director of Marketing and Promotions, said.
Although the Rowdy bobblehead is now being sold for over $70, Saunders said it only costs between $3 and $5 to make and order each bobblehead.