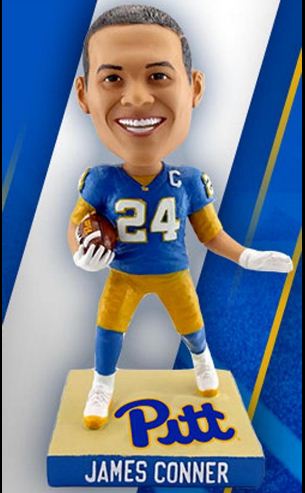 Panthers to celebrate Erie native James Conner's career with giveaway on Homecoming
Pitt will celebrate the college football career of Erie native James Conner with a bobblehead giveaway Saturday at Heinz Field.
The first 30,000 fans will receive the Conner souvenir when the Panthers host North Carolina State in a Homecoming Game at noon Saturday.
Conner is a McDowell graduate and currently a member of the Pittsburgh Steelers. He left Pitt to enter the NFL Draft after the 2016 season with one year of eligibility remaining.
Conner closed his Pitt career as the No. 2 rusher in school history with 3,733 yards. He also ranked second with 52 rushing touchdowns and 56 overall touchdowns, both ACC records.
His best season came as a sophomore in 2014 when he rushed for 1,765 yards and scored a Pitt-record 26 touchdowns. He was named ACC Player of the Year, ACC Offensive Player of the Year and an All-American.
He became more widely known nationwide for his heroic battle with Hodgkin lymphoma, beginning in late 2015 until May 2016. He then made a memorable return to the field as a junior when he rushed for 1,092 yards and 16 touchdowns while scoring 20 overall TDs.
The Steelers drafted him in the third round of the NFL Draft last spring.
SOCCER
• Penn State Behrend senior Jordan Oberlander, a Fort LeBoeuf graduate, was named AMCC and ECAC Division III North offensive player of the week after recording two hat tricks in two games.
Oberlander scored three goals and added one assist in a 6-0 rout of D'Youville and then added her third overall hat trick in a 3-0 win over Mt. Aloysius.
She entered last week ranked second in NCAA Division III with 17 goals and 37 points.
• Gannon sophomore Taylor Lewis, a Harbor Creek graduate, was named the PSAC player of the week for the second time in her career after leading the No. 25 Lady Knights to two wins. She also was named ECAC offensive player of the week.
Lewis scored twice in a 3-0 shutout at Roberts Wesleyan and scored two more times in a 2-1 win at Lock Haven. That gave her three multi-goal performances in four games and six in her career.
Teammate Danitza Indacochea was selected as the ECAC defensive player of the week for the third straight week.
VOLLEYBALL
• Gannon outside hitter Ally Smith was named PSAC Northwest Division player of the week for the second straight week after she compiled 22 kills in two matches.
Teammate Ashley Kerestes was picked as the ECAC rookie of the week for the third time this season.