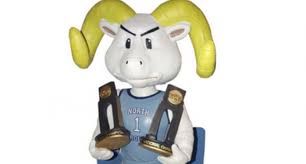 With March Madness just around the corner, the National Bobblehead Hall of Fame and Musem released a series of awesome mascot bobbleheads commemorating ten teams who've won the championship multiple times.
The teams featured in the series are impressive.
Leading the pack is the Kentucky Wildcats, who've won a whopping eight NCAA Tournament titles. Most recently as 2012, on a team featuring Anthony Davis, Michael Kidd-Gilchrist, and Terrence Jones.
Representing the Wildcats is Blue the Bobcat.
You can't do a series like this without including the North Carolina Tar Heels.
North Carolina has won four championships in team history, including two within the new millennium in 2005 and 2009 under coach Roy Williams. Who can forget the iconic Michael Jordan game-winner against Georgetown in 1982?
The Kansas Jayhawks were also featured, as the school's won three NCAA Championships. Armed with a handful future NBA players, including Darrel Arthur, Cole Aldrich, Brandon Rush, Sasha Kaun and Mario Chalmers, the Jayhawks last championship came in 2008 against Memphis.