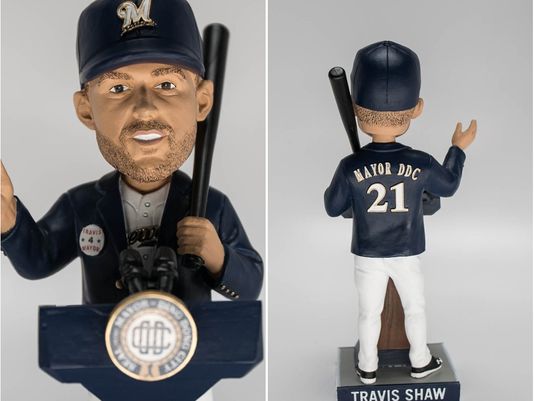 On Sunday, the Milwaukee Brewers will present to all fans a Travis Shaw bobblehead, or perhaps more appropriately, a "Mayor of Ding Dong City" bobblehead.
Shaw, the Brewers' third baseman who also arrived last year with that unusual nickname, is portrayed holding a bat but clearly stumping for his candidacy, with a sharp jacket and podium gracing a clever logo of the fictional homer-happy village.
It's a pretty sweet bobblehead.
The Brewers have been active in the bobblehead giveaway department, a practice dating back to the early years at Miller Park. Which bobbles are the best? Here's a look at one man's choices. For simplicity sake, we'll restrict the discussion to all-fan giveaways at Miller Park, taking some of those specialty-ticket package bobbles off the table. Largely because I don't have any of those.
Apologies to Bob Uecker bobbleheads — I couldn't choose between the "back row" bobble and the Bob Uecker adorned in old Braves gear, so I decided to cheat and only list Brewers players to give myself an out.
I had to admit embarrassment while playing at a bar-trivia championship round a few years ago. The question: which Brewers player holds the franchise record for most Gold Gloves? Everybody looked at me, the resident Brewers expert, and I had to admit defeat: "I don't know. Maybe Robin Yount?"
Ouch. We got it wrong. Not long after, the Brewers released the George Scott bobblehead, with a stack of Gold Gloves showcasing that his five are the most in franchise history. It's not a question I'll get wrong again.
The first baseman isn't often regarded as one of the greats in Brewers history, largely because his tenure with the team predates the squads of the early 1980s. He also hit .283 with 115 home runs for the Brewers between the years 1972-1976. If nothing else, the bobblehead is a great Brewers history lesson from the pre-Molitor/Yount era.
Speaking of Gold Gloves, the Brewers have landed only one since 1982, and that went to playmaking outfielder Carlos Gomez in 2013. This bobblehead is the perfect illustration of how Brewers fans will likely remember Gomez, ranging to make a play before crashing into the center field fence. Gomez's energy, speed and ability to make incredible defensive plays are all encapsulated in that idea.
The bobblehead paints his glove in gold to commemorate his achievement. Joey Votto probably doesn't have this one on his shelf.