Matt Hamilton and John Shuster Curling Bobbleheads Unveiled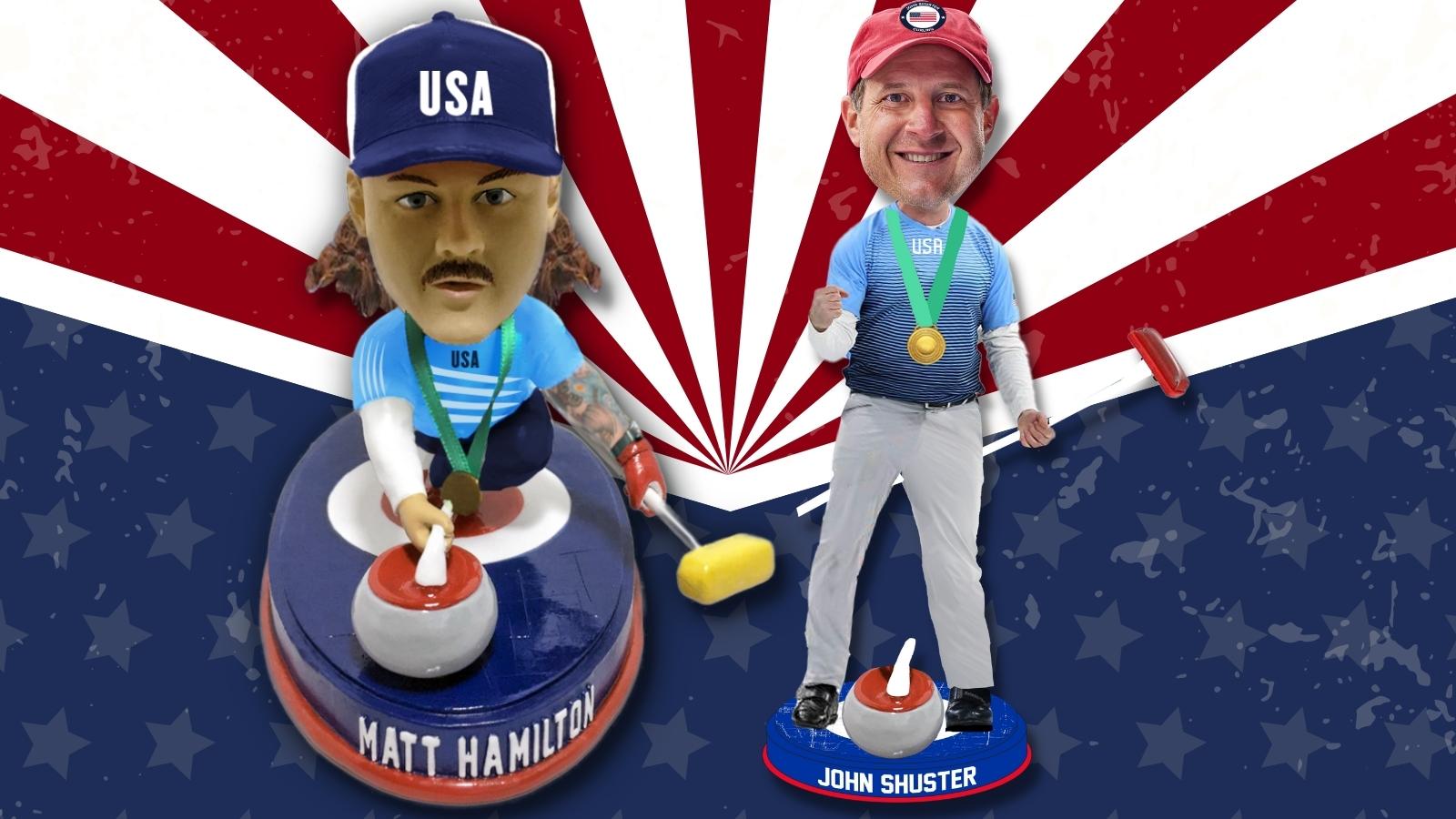 MILWAUKEE – This morning, the National Bobblehead Hall of Fame and Museum unveiled limited-edition bobbleheads featuring Team USA curlers Matt Hamilton and John Shuster. Matt Hamilton, who is from McFarland, Wisconsin and is a member of the Madison Curling Club, is being honored with his second bobblehead, with the new version featuring his long hair and new tattoos. This marks the first bobblehead of John Shuster, who resides in Superior, Wisconsin and is a member of the Duluth Curling Club in Duluth, Minnesota.
Hamilton's new bobblehead features a focused Hamilton in a rock-throwing pose on an oval red, white and blue base bearing his name. The mustachioed Hamilton bobblehead is wearing a hat with USA on the front with his shoulder-length hair flowing behind. Holding a broom in his left hand which showcases his sleeve tattoo on his left arm, he is wearing a blue shirt and white pants along with his multi-colored shoes, which were all the rage at the 2022 Winter Olympics in Beijing. Shuster's bobblehead features the skip on an oval red, white and blue base holding a broom in his left hand while celebrating his team's victory. Both bobbleheads include removable gold medals.
Each bobblehead, which also includes a removable gold medal, is individually numbered to 2,022 and they are only available through the National Bobblehead Hall of Fame and Museum's Online Store. The bobbleheads, which are expected to ship in July, are $30 each plus a flat-rate shipping charge of $8 per order.
John Shuster led Team USA to the country's first gold medal in curling at the 2018 Winter Olympics and has now competed in five straight Winter Olympics. Shuster was chosen as one of two United States flag bearers for the opening ceremonies of the 2022 Olympics. Matt Hamilton helped Team USA bring home a gold medal from the 2018 Winter Olympics in Pyeongchang, South Korea, after helping Team Schuster win five straight must-win matches. Hamilton's first bobblehead, which was released following the 2018 gold medal performance, was the first curling bobblehead ever produced and honored the first curling gold medal for Team USA in Olympics history.
In Beijing for the 2022 Olympics, Team Schuster was unable to defend their title after winning gold in 2018. The Americans went home without a medal after losing the bronze-medal game to Canada, 8-5. Despite being unable to duplicate the success from 2018, Team USA still got people talking about curling. Hamilton, who received his last haircut four years ago, said he would be cutting his hair for charity in March. Working with stachestrong.org, a nonprofit group that raises money for brain cancer research, Hamilton planned to cut off his hair and donate it to a children's wig foundation while raising money for StacheStrong. "Every dollar that goes to them goes into the charity," Hamilton said in an interview. "So, I'm just super stoked to be a part of it. And with the mustache myself, I felt like I was a good representative."
"We are excited to release two new bobbleheads featuring two curling legends—Matt Hamilton and John Shuster," National Bobblehead Hall of Fame and Museum co-founder and CEO Phil Sklar said. "We received many requests for a bobblehead featuring Matt's new hair and tattoos and a bobblehead of John Shuster, and we're thrilled to be teaming up with both of them to make these new bobbleheads available for fans."
About the National Bobblehead Hall of Fame and Museum:
The National Bobblehead Hall of Fame and Museum, which is located at 170 S. 1st St. in Milwaukee, Wisconsin, opened to the public on February 1st, 2019. The HOF and Museum also produces high quality, customized bobbleheads for retail sale as well as organizations, individuals, and teams across the country. Visit us online and on Facebook, Twitter and Instagram.