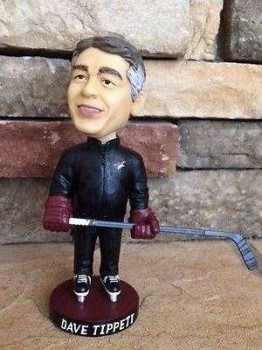 Remember that Dave Tippett bobblehead promotion the Coyotes were planning last season? No? Well, how would you?
Tippett put the kibosh on the idea before Ted Santiago, the Coyotes former vice president of marketing, could produce more than a prototype.
But if you are wondering what you missed, the cat is out of the bag. The one and only Tippett bobblehead, the prototype, recently sold on eBay for $61.
The Coyotes were aware of the sale and is some thought to tracking down the buyer to reacquire it for Tippett's mom.
"I've got some people making calls," Tippett cracked.
At any rate, don't count on a change of heart from the Coyotes' no-nonsense coach.
"Those things are for players," he said. "Let's leave it at that."
Read more here.