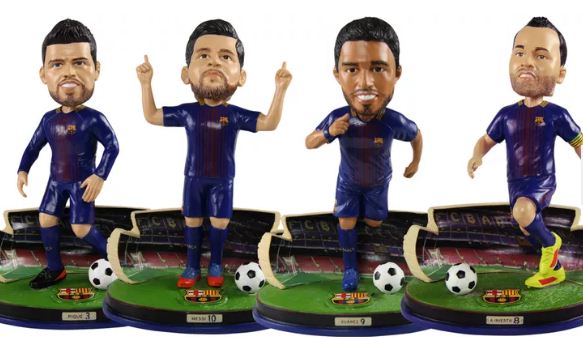 Few players can ever claim to be good enough that they have a bobblehead designed on them but now four Barça players can. Forever Collectibles have produced four FC Barcelona licensed bobbleheads meaning these figures have a recognisable likeness to their real life counterparts.
The four players that have received the bobblehead treatment are Andrés Iniesta, Lionel Messi, Luis Suárez and Gerard Piqué. Each player is in a unique pose with Messi and Suárez's statues recreating their goal celebrations.
These are not your average bobbleheads though. For starters, they are much bigger. Whereas your average bobblehead is about two inches tall these are roughly three times the size. The bobbleheads also come with a specially designed mount of the main stand of the Camp Nou and the bottom is labelled with the number your statue is.
It is clear a lot of hard work has gone into creating these and any über Barça fans can add bobbleheads to the growing list of Barça merchandise that they own.