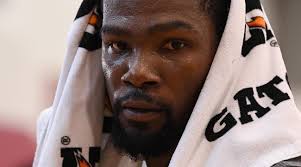 The NBA preseason doesn't begin until September, but the Warriors released three different bobbleheads this week.
Draymond Green and Stephen Curry both got bobbleheads with the number of trophies they have won with the team and distinctive Golden State attire.
However, Durant got the short end of the stick: He's dressed in a Sharks uniform and holds a basketball.
The bobblehead also doesn't resemble Durant as well as Curry and Green look like their bobbleheads.
The Warriors are playing at the SAP Center, where the Sharks play, on Oct. 12, which is Durant's bobblehead night.
So while it makes sense, poor Durant doesn't even get to hold the trophies he won as a two-time Finals MVP.