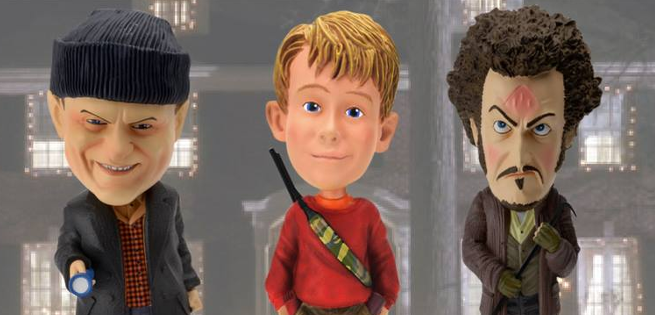 Home Alone Bobbleheads Released By Jay Jayson
Just in time for its 25th anniversary, National Bobblehead Hall of Fame and Museum has unveiled the first bobblehead dolls based on characters from Home Alone, the 1990 holiday classic that made Macaulay Culkin (Uncle Buck, Richie Rich) an overnight sensation.
The Limited Edition series features Kevin McCallister (played by Macaulay Culkin), with Buzz's pump-action BB gun; Harry Lime (played by Joe Pesci), with a mischievious grin and a flashlight; and Marv Merchants (played by Daniel Stern), with his iron-scarred forehead.
The Home Alone Bobbleheads are available exclusively in the National Bobblehead HOF Online Store for $30 each, or $80 for the set of three, plus a flat rate shipping cost of $8. Only 5,000 of the Kevin and 3,000 of the Harry and Marv bobbleheads were produced in the limited edition series.
"As my favorite movie, it has been exciting to see the bobbleheads go from an idea to a reality," said Phil Sklar, Co-Founder and CEO of the National Bobblehead Hall of Fame and Museum. "The bobbleheads were over a year in the making, but have been well worth the wait! I would encourage anyone interested in buying them to act now, as the level of interest has been unprecedented."
"When the bobbleheads arrived last week, we were blown away by the amazing quality and detail," said National Bobblehead Hall of Fame and Museum Co-Founder and President, Brad Novak. "These are going to be the ultimate gift for any Home Alone fan this holiday season!"
The bobbleheads were produced by NECA and officially licensed by 20th Century Fox.
Home Alone (1990) – Eight-year-old Kevin McCallister (Culkin) has become the man of the house overnight! Accidentally left behind when his family rushes off on a Christmas vacation, Kevin gets busy decorating the house for the holidays, but he's not decking the halls with tinsel and holly. Two bumbling burglars are trying to break in and Kevin's rigging a bewildering battery of booby traps to welcome them!