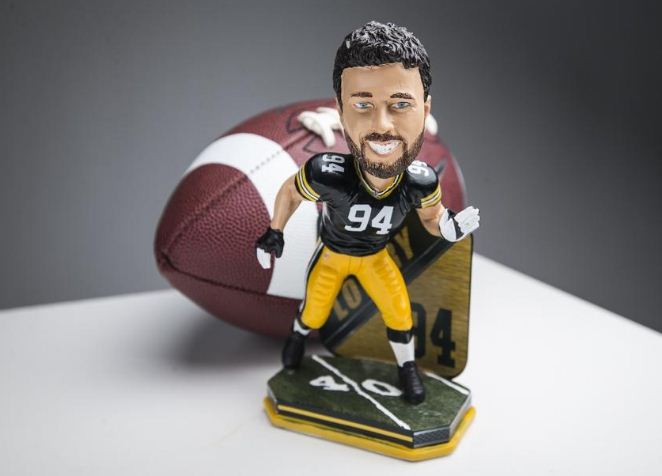 The National Bobblehead Hall of Fame and Museum, founded by a pair of 2002 Guilford graduates, will soon have a permanent home in Milwaukee — with bobbleheads of Rockford native and Green Bay Packers defensive lineman Dean Lowry for sale inside.
"It's ironic that we're doing a bobblehead of a Boylan star," said Phil Sklar, who co-founded the museum with fellow Guilford grad Brad Novak. "There's a big rivalry with Guilford and Boylan."
Novak and Sklar came up with the idea for the museum in 2014 and held a preview showing in 2016 in downtown Milwaukee. Sklar said they will hold more preview events at the end of this month, with plans for a grand openingfor their 4,200-square-foot store sometime in July.
"We haven't finalized hours and admission yet, but it should be around $5," Sklar said. "We'll have 6,000 unique bobbleheads on display from all different sports, and not just sports, everything from movies to TV, musicians and politicians. It runs the gamut — if it bobbles, it will be represented.
"We've had a lot of bobbleheads donated since we announced the concept. One person donated 100 Packer bobbleheads, but we also have Bear bobbleheads. We have to — I am a Bears fan."
klar said they have more than 100 different Packers bobbleheads representing 50 Packers players. That includes more than a dozen different likenesses of Aaron Rodgers alone, including a dual-bobblehead re-enactment of all three of his Hail Mary touchdown passes. Sklar said they have sold more of those three bobbleheads than any other.
Lowry, who was honored by the Rockford IceHogs with a bobblehead giveaway, said he hasn't seen this bobblehead yet. Sklar said he and Novak decided to make it after Lowry returned a fumble 62 yards for a touchdown and was named NFC Defensive Player of the Week in a win over Tampa Bay.
"After watching Lowry recover the fumble in Week 13 and do a Lambeau Leap, we knew it was time for a bobblehead featuring him in his Packers uniform," Sklar said.