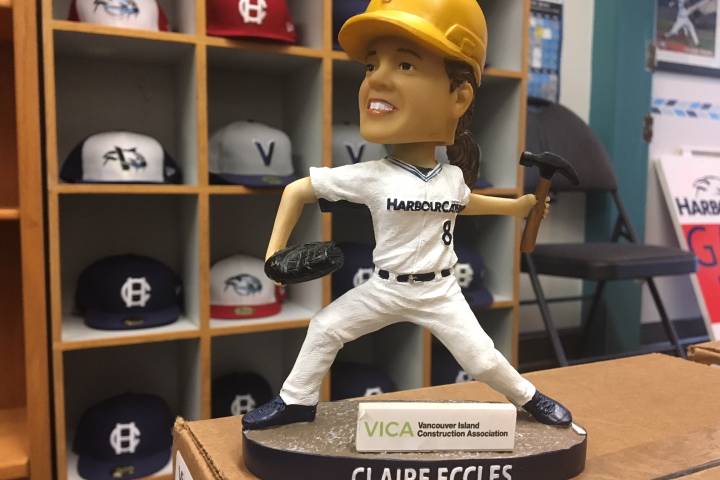 Claire Eccles doesn't see the resemblance. When the trailblazing athlete first saw a picture of her own bobblehead she didn't exactly see herself looking back at her.
"I haven't seen it yet. I have seen photos of it. But I wouldn't say it looks a whole lot like me," said Eccles with a chuckle. "But I wouldn't say how accurate bobblehead dolls are anyways."
On Sunday, the 'Cats will be honouring their left-handed knuckle-baller by handing out the mini-statuettes to the first 800 fans through the gate prior to the team's game. Eccles, who has just returned from a trip to Japan, is expected to make her season debut on her own bobblehead day. That means mini-Eccles may be staring back at the real thing on the mound.
"It is cool for sure, but it's kind of weird," said Eccles. "Hopefully they aren't everywhere and I won't be too distracted. I am sure I will see a couple in the stand."
What stands out for Eccles is the partnership with the Vancouver Island Construction Association, who is sponsoring the "Hardhats in the Ballpark" promotion. Like the construction industry, baseball is a profession where men are often associated with the jobs.
"It is kind of similar here they just want more women involved in construction just like I am trying to get more women involved in baseball, so they kind of go hand in hand," said Eccles.
READ MORE: Women's Olympic hockey stars inspiring more girls to play the game
The Vancouver Island Construction Association is thrilled to be associated with Eccles.
"We want to demonstrate to women and youth in our communities that the construction industry is a lucrative, inclusive and stable career choice with opportunities for growth," said VICA CEO Rory Kulmala. "We are very pleased to have the HarbourCats and Claire show such great support in promoting women and youth entering the trades."
To stick with the theme, bobblehead Claire is wearing a hard hat, not a baseball cap and instead of a baseball in her left hand, she is throwing a hammer. As for where Eccles will put the bobblehead after the game, she says probably tucked away in her room so she doesn't bring too much attention to herself.